Connect with Bernie App
UX and visual design. Launched in 2016 for the Bernie Sanders campaign for president.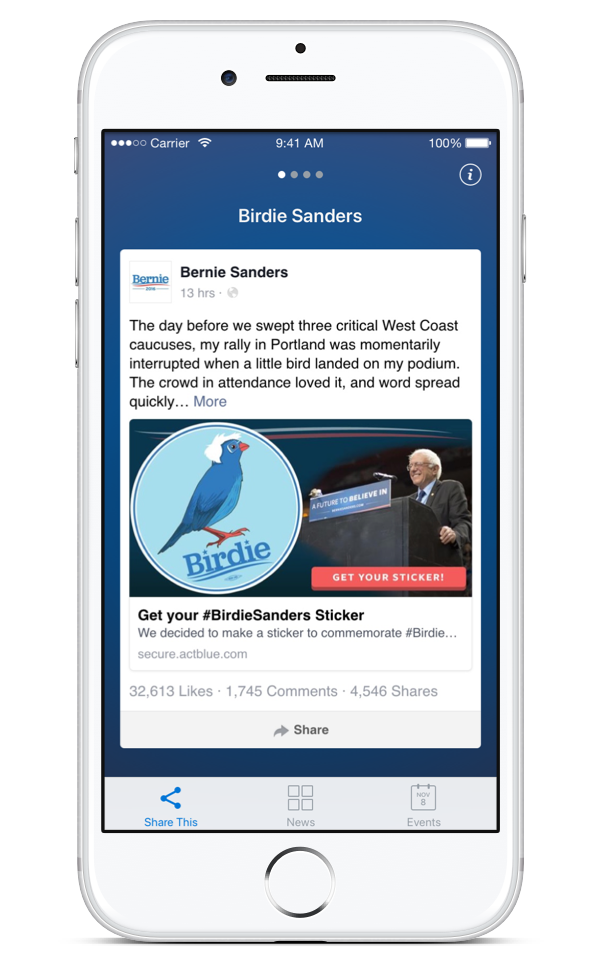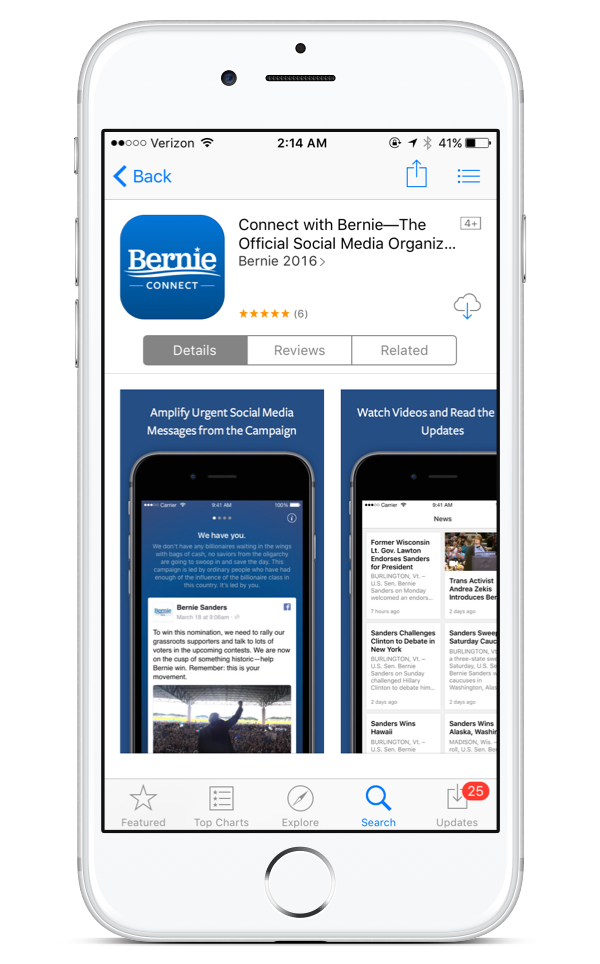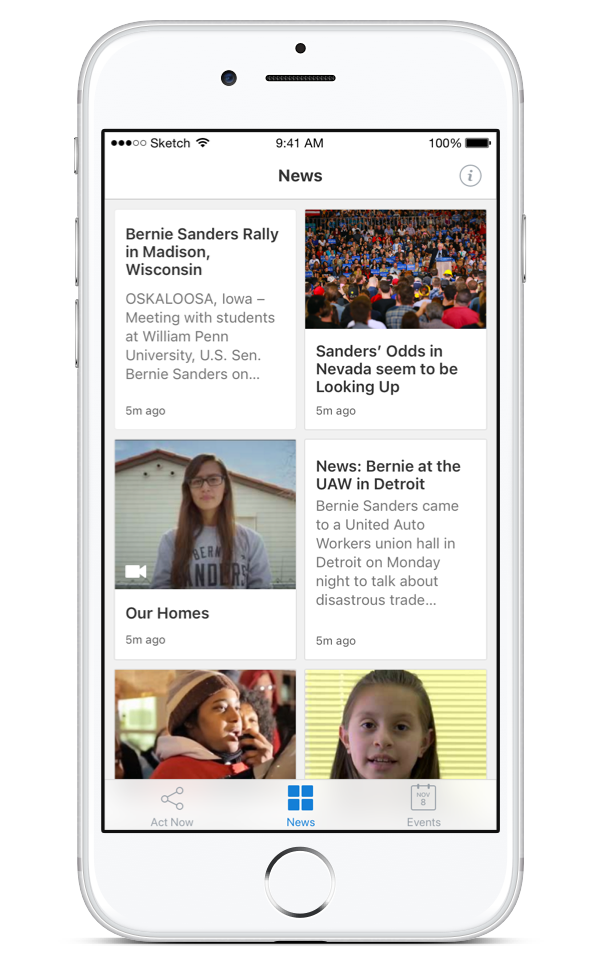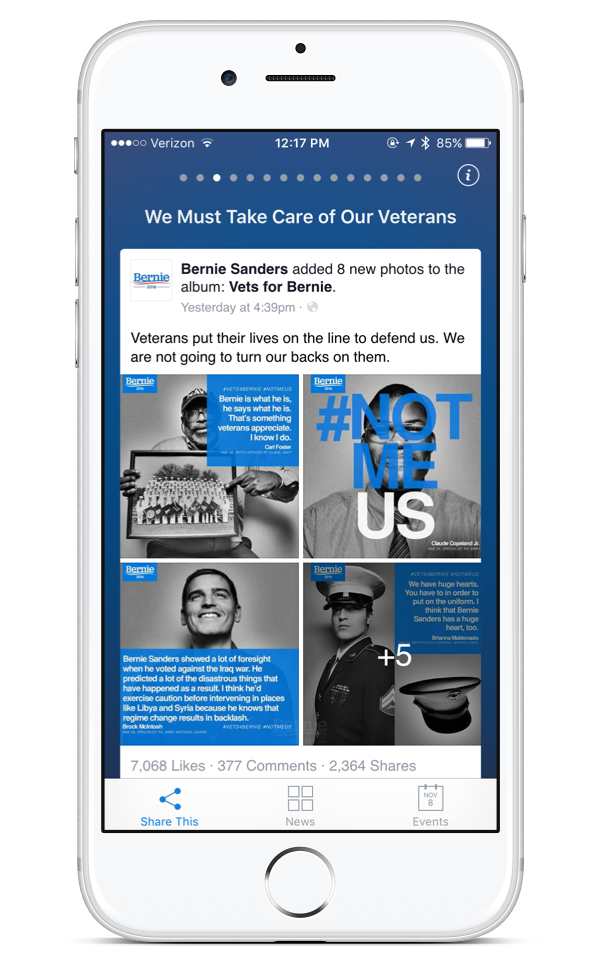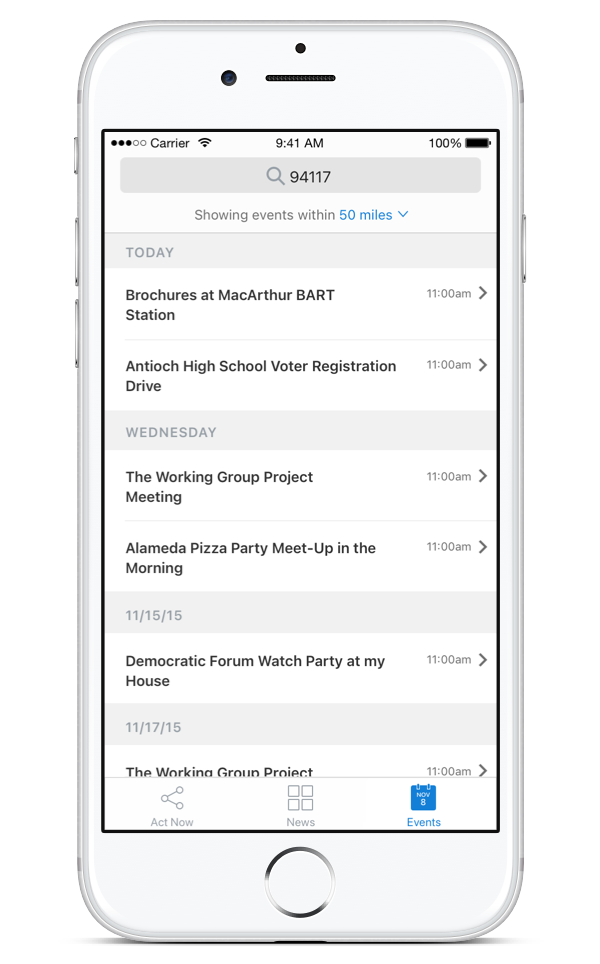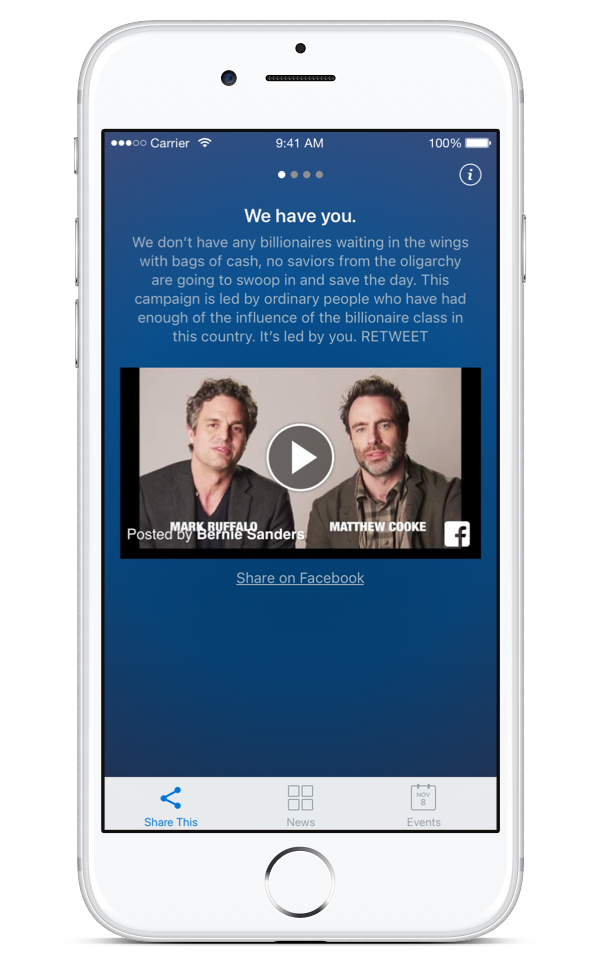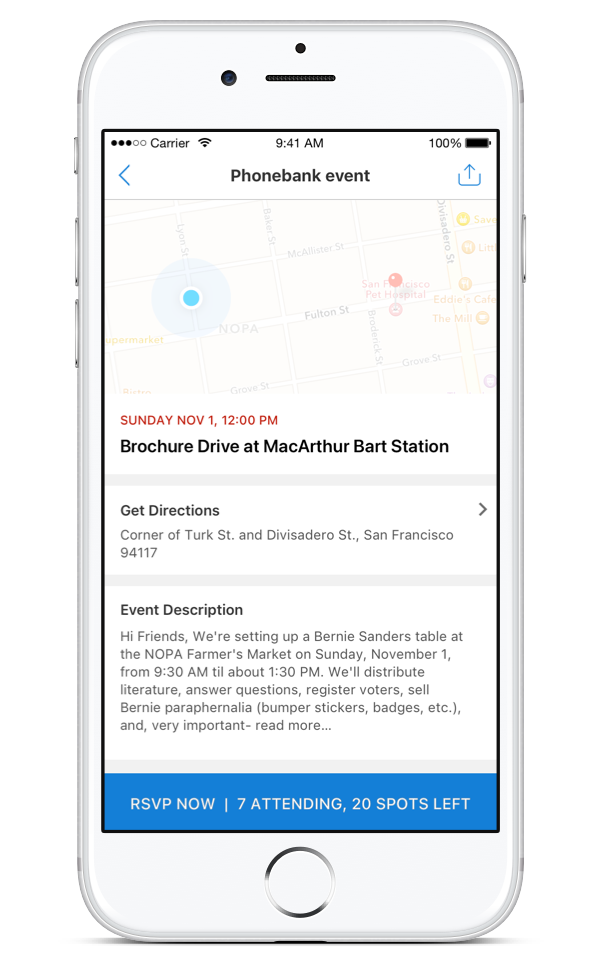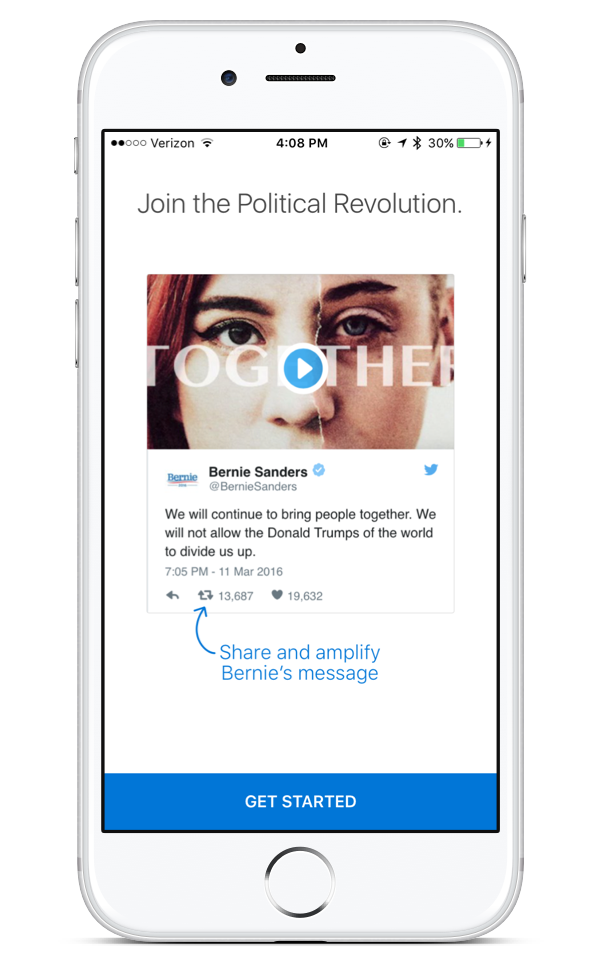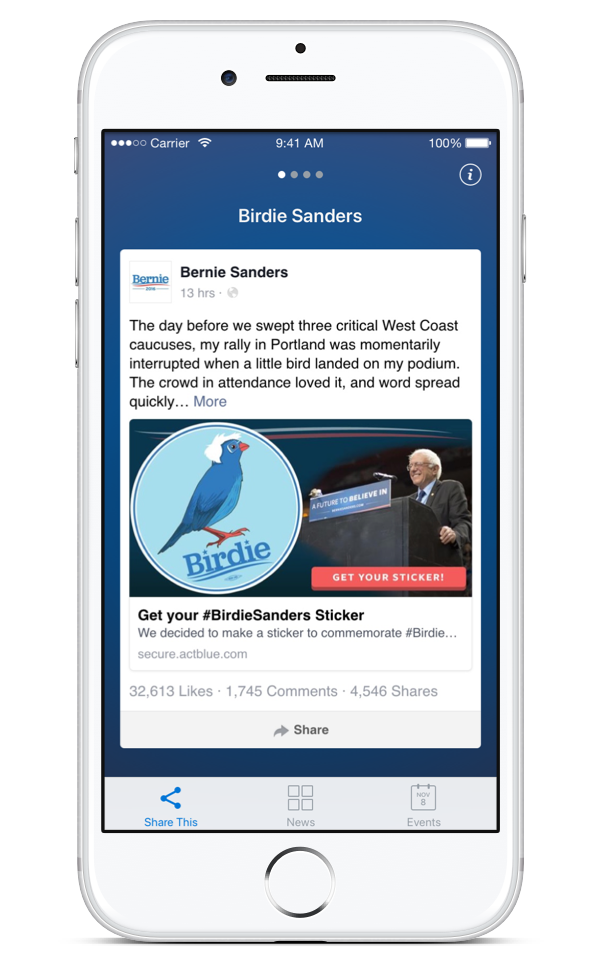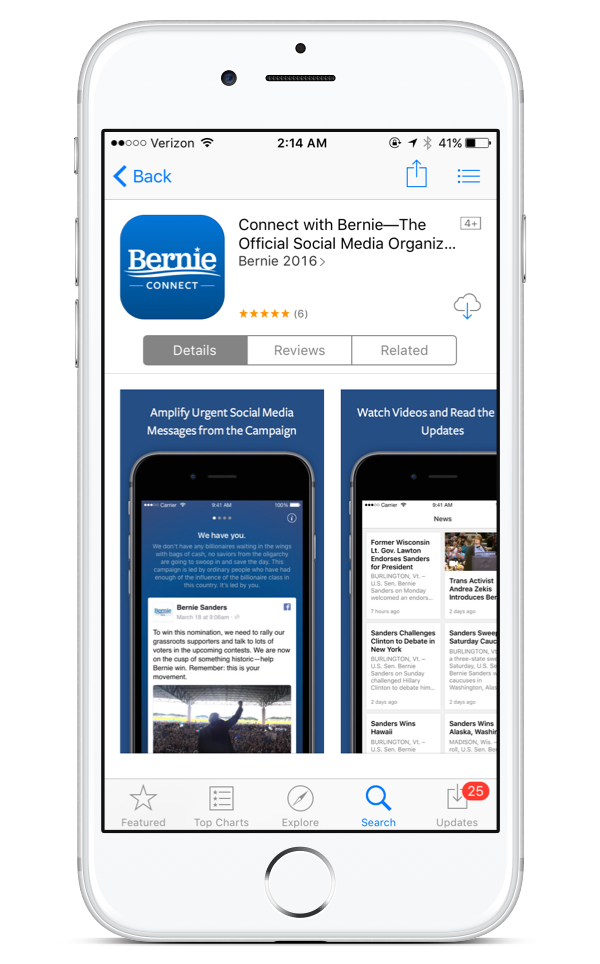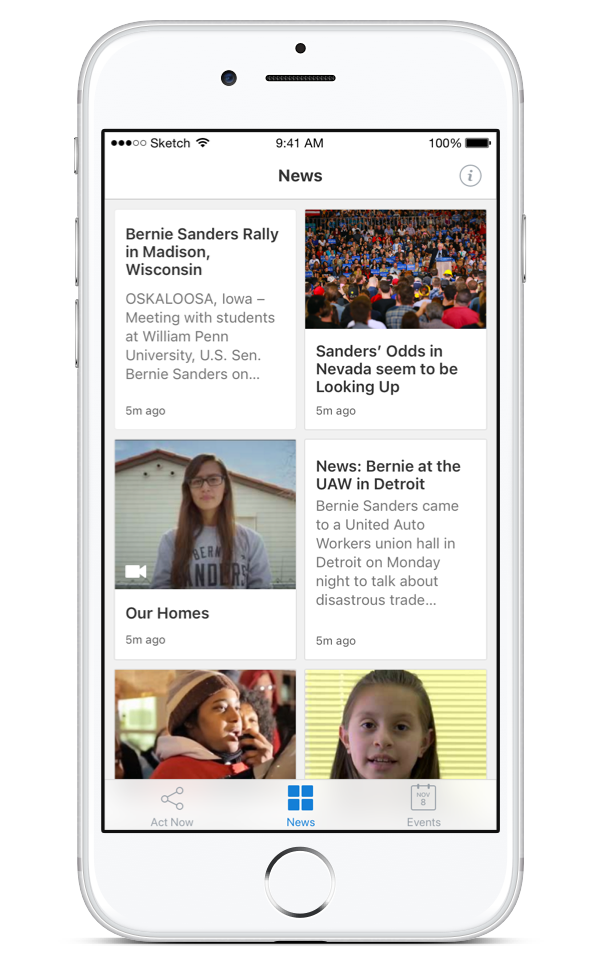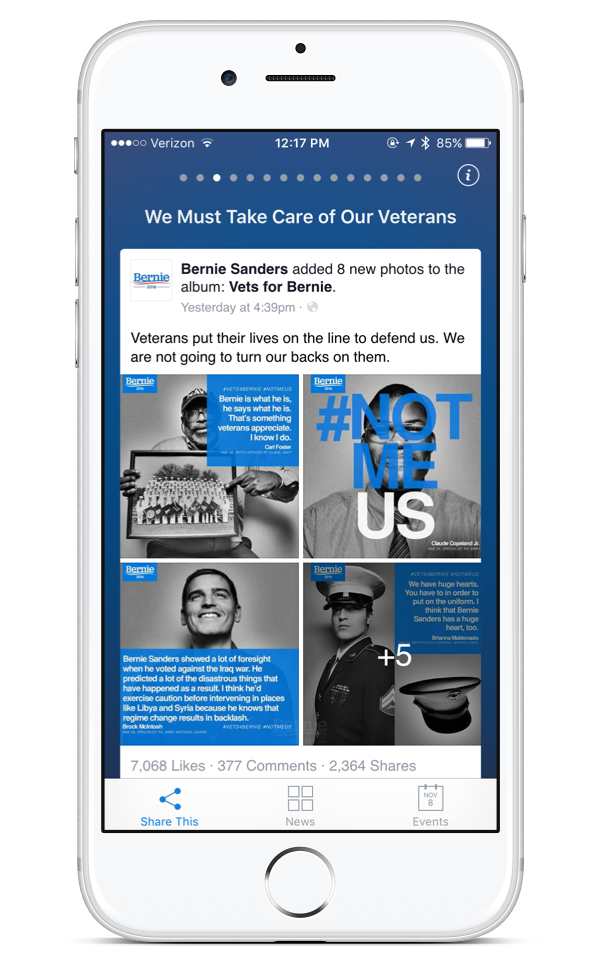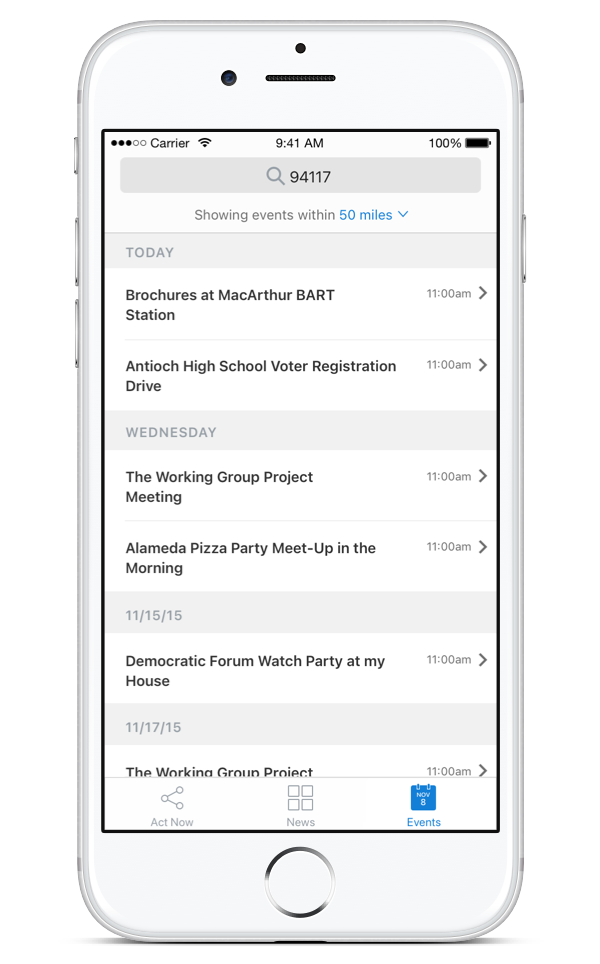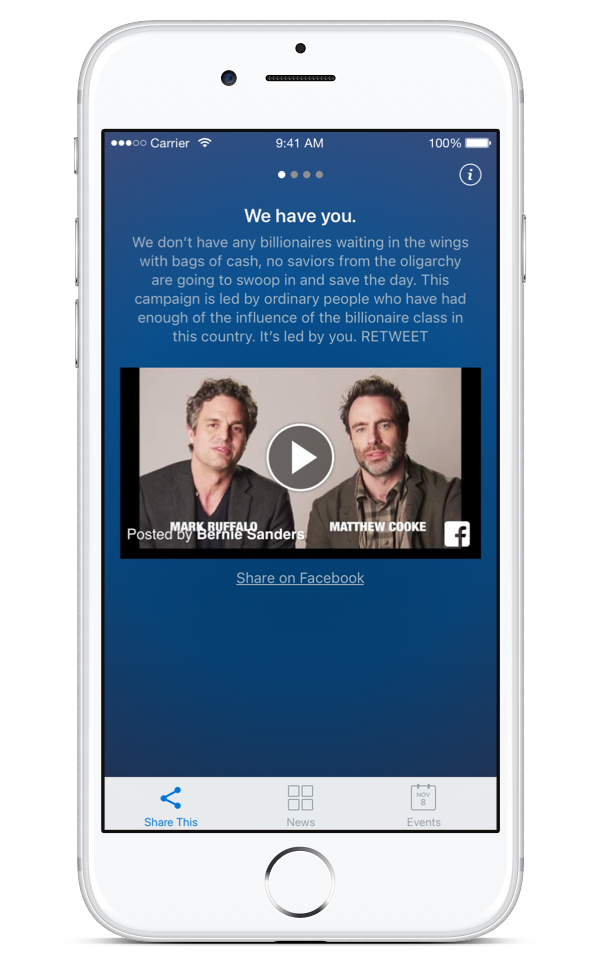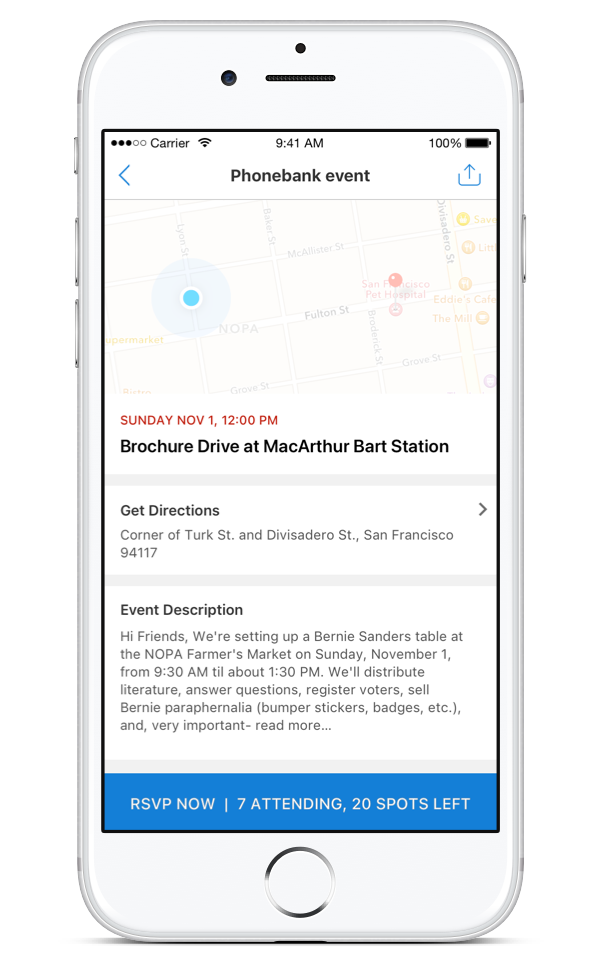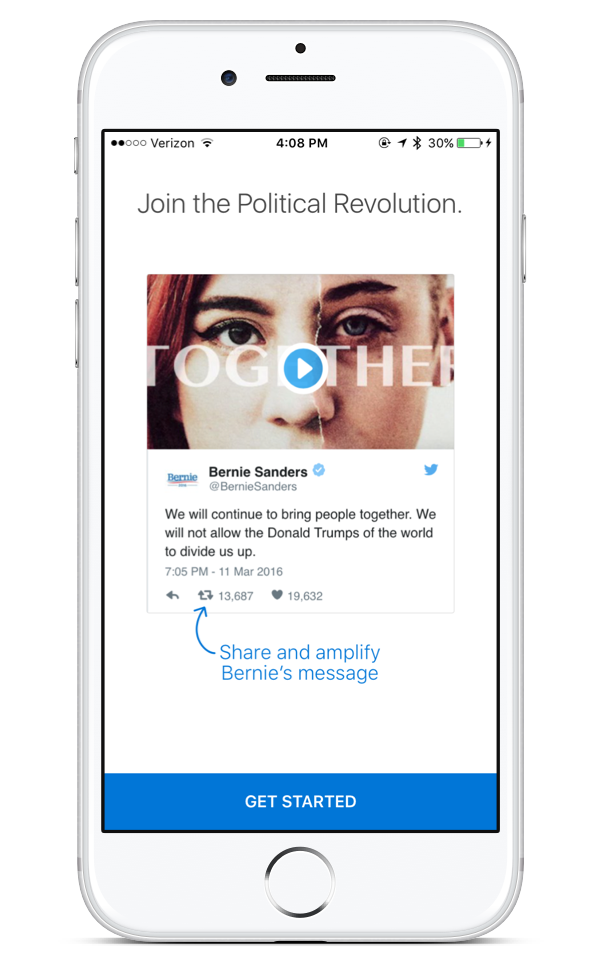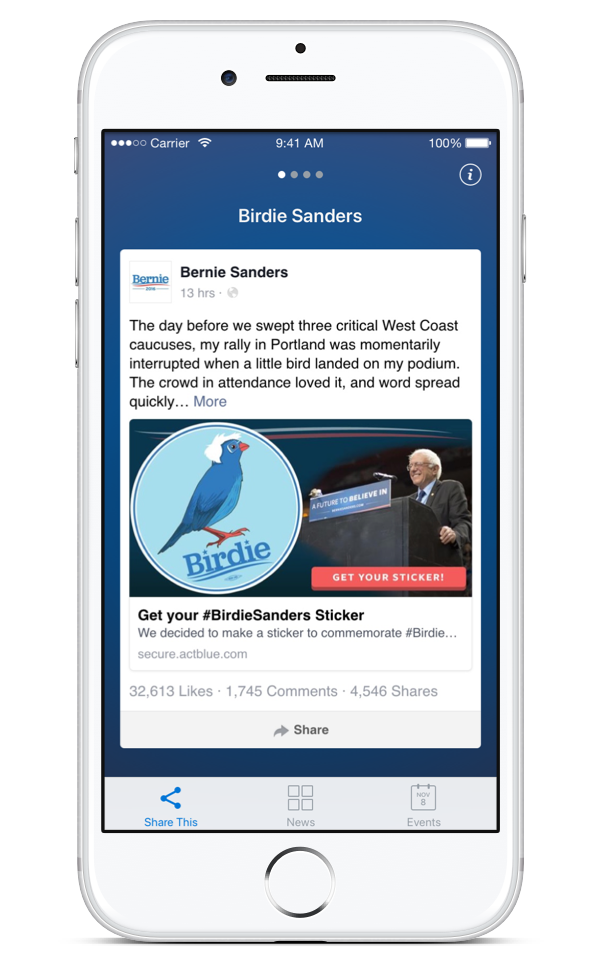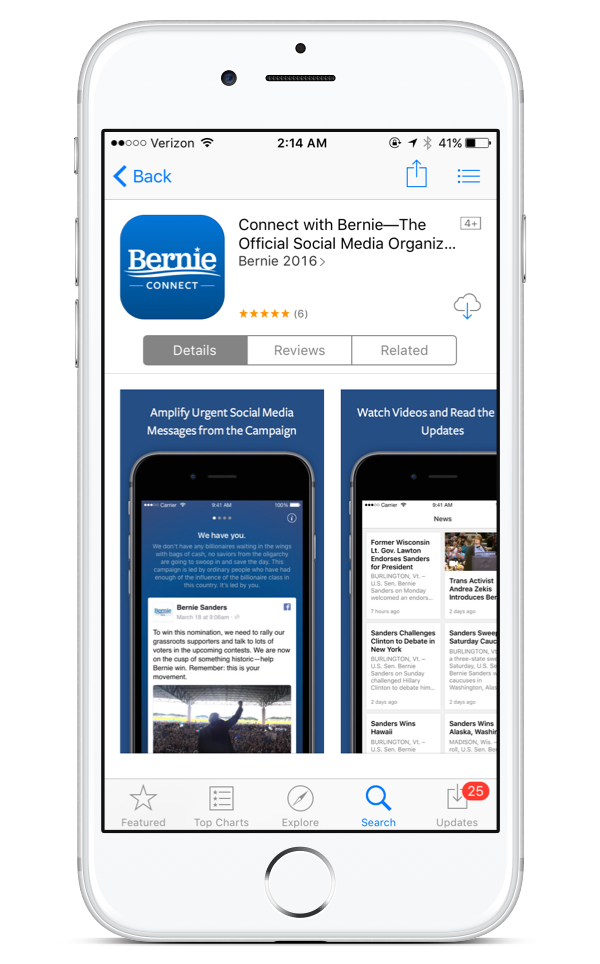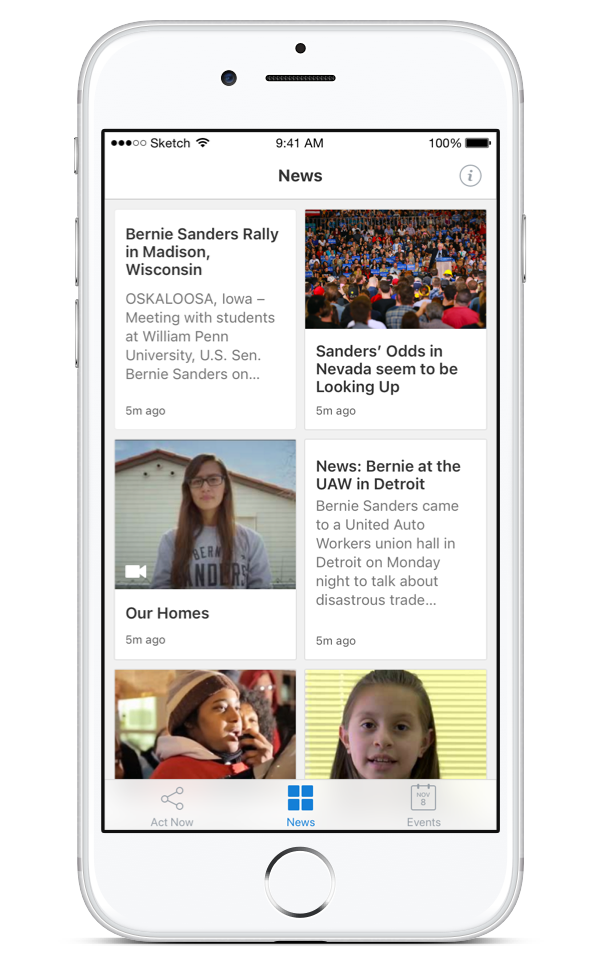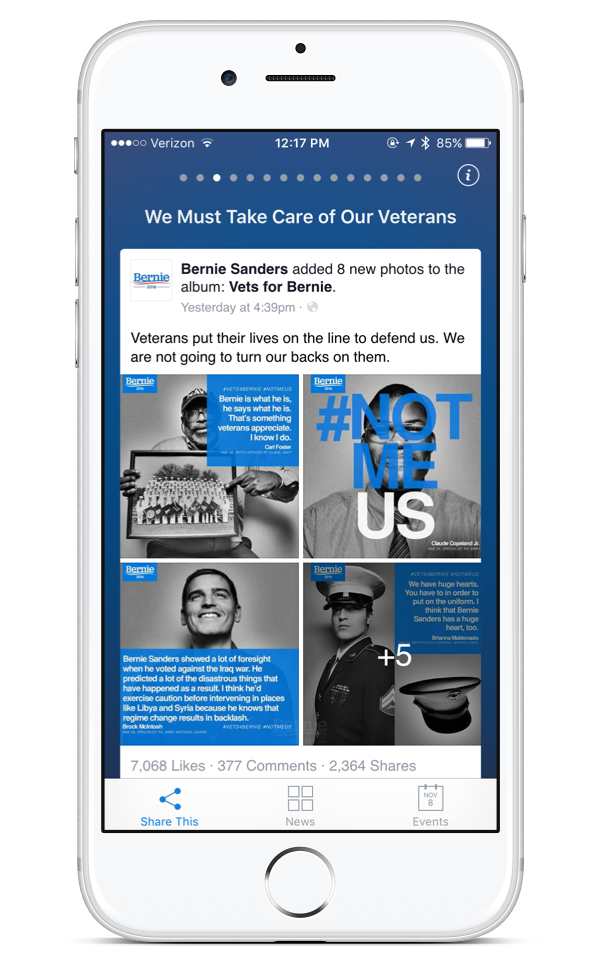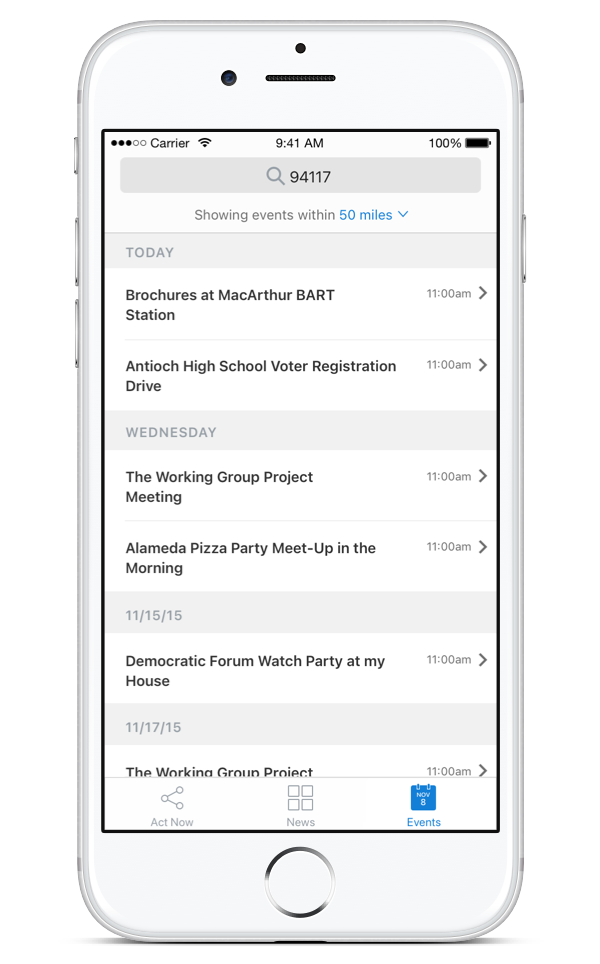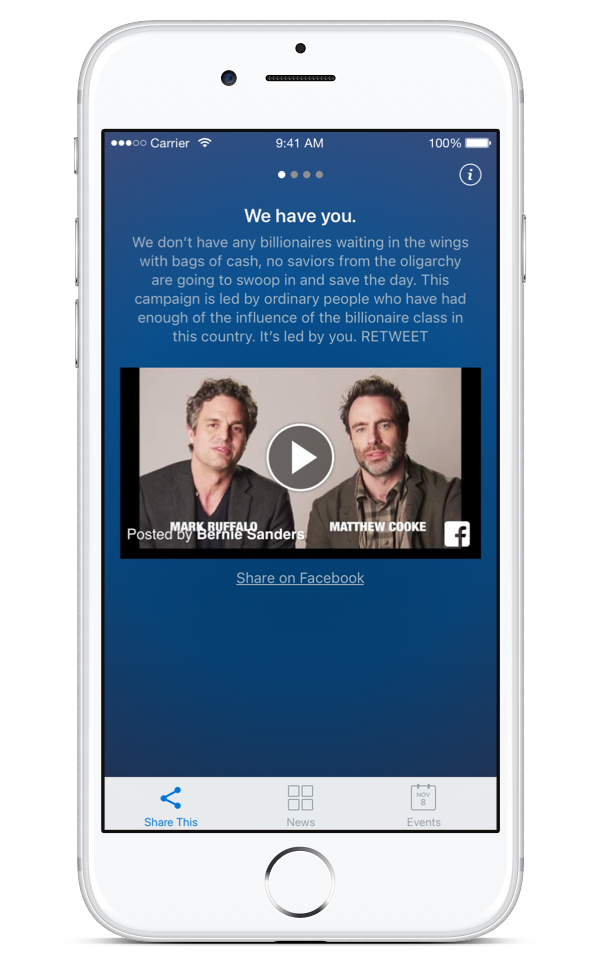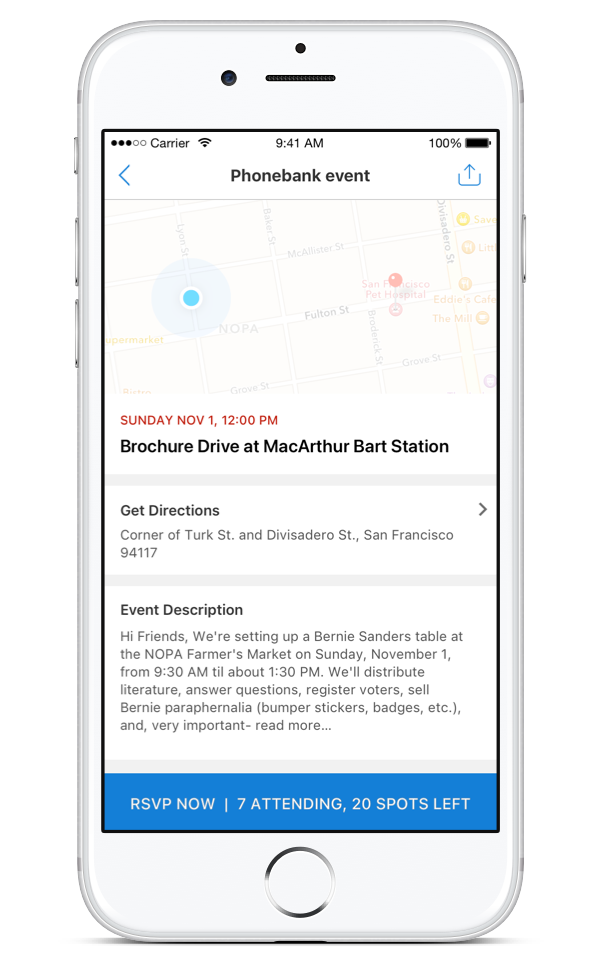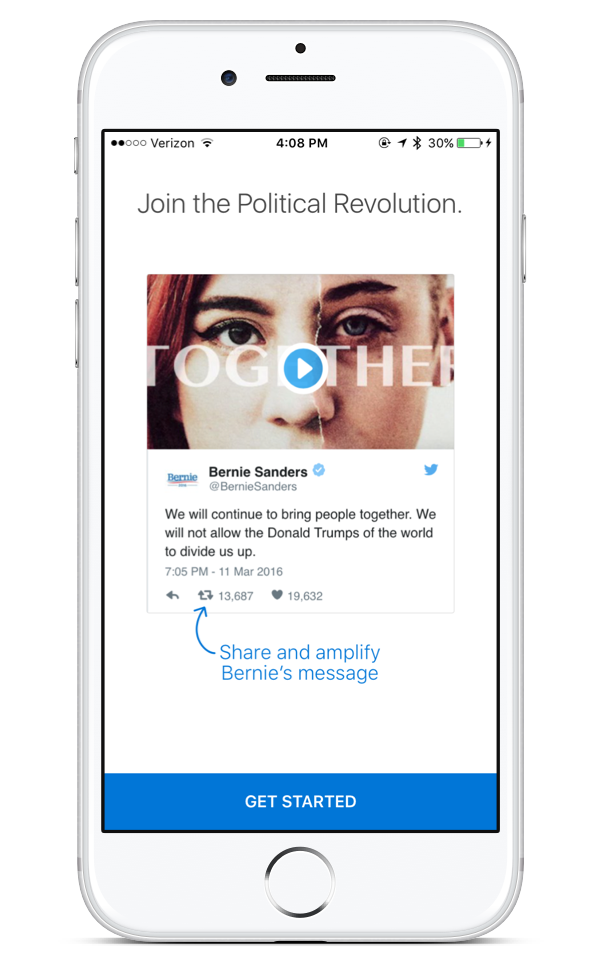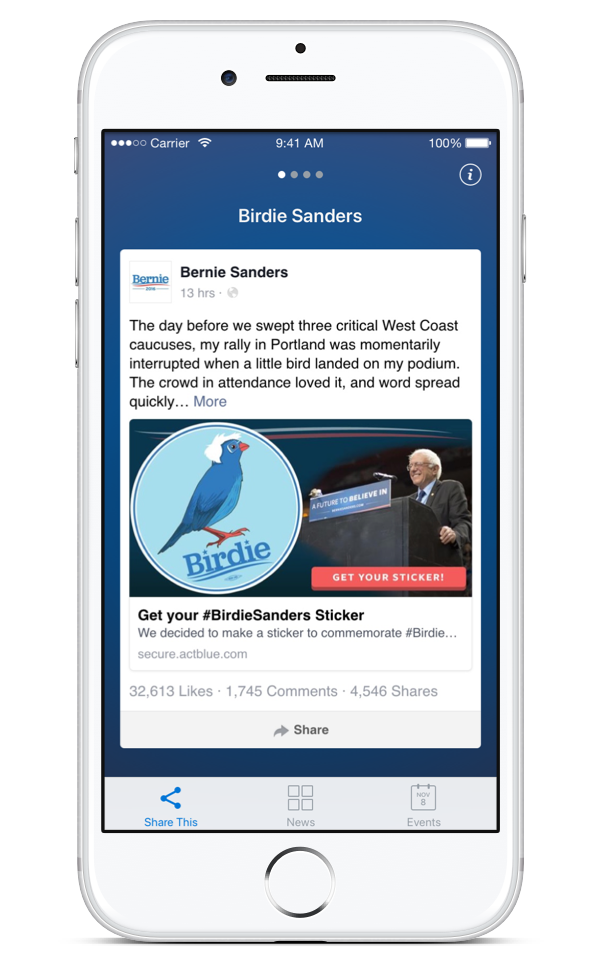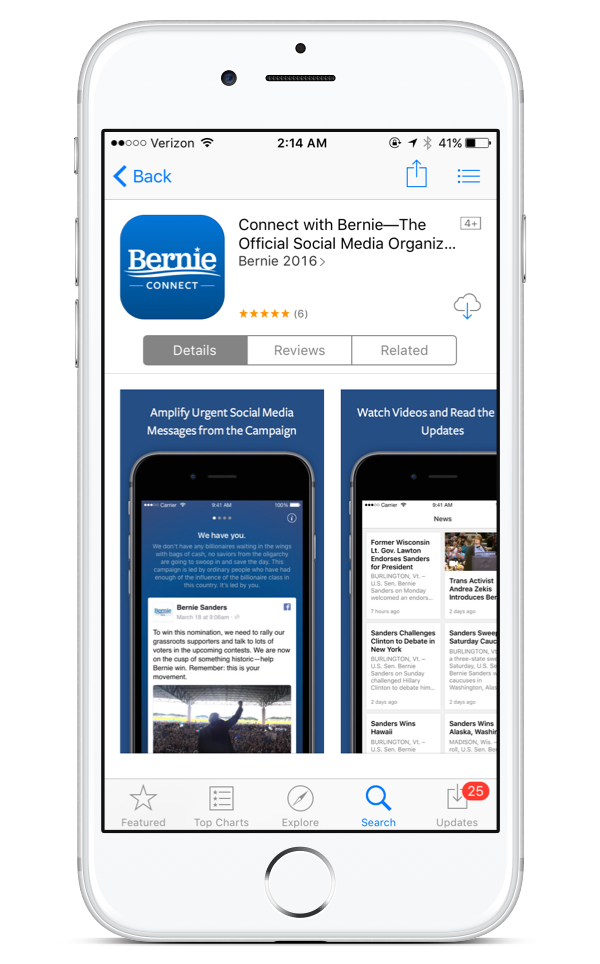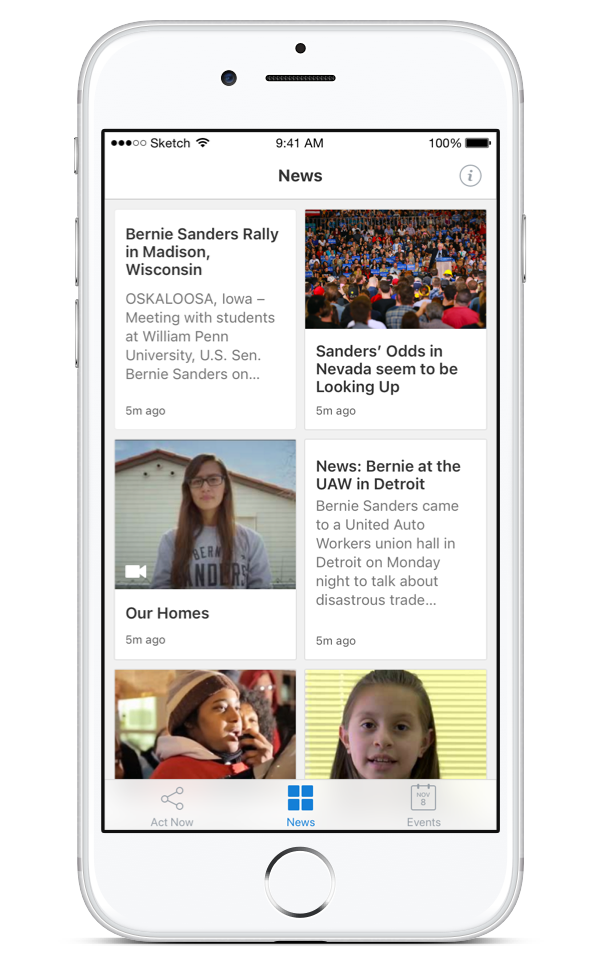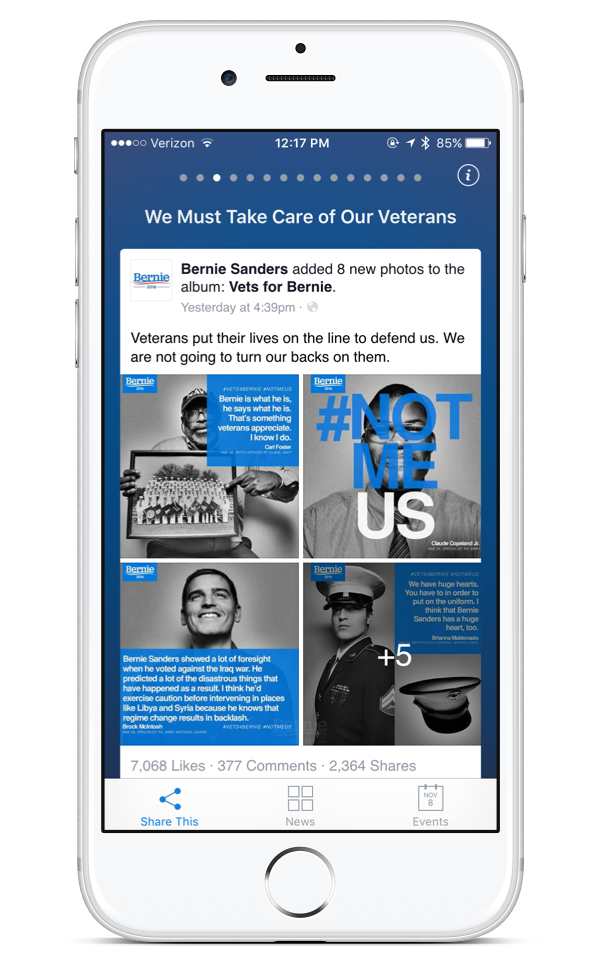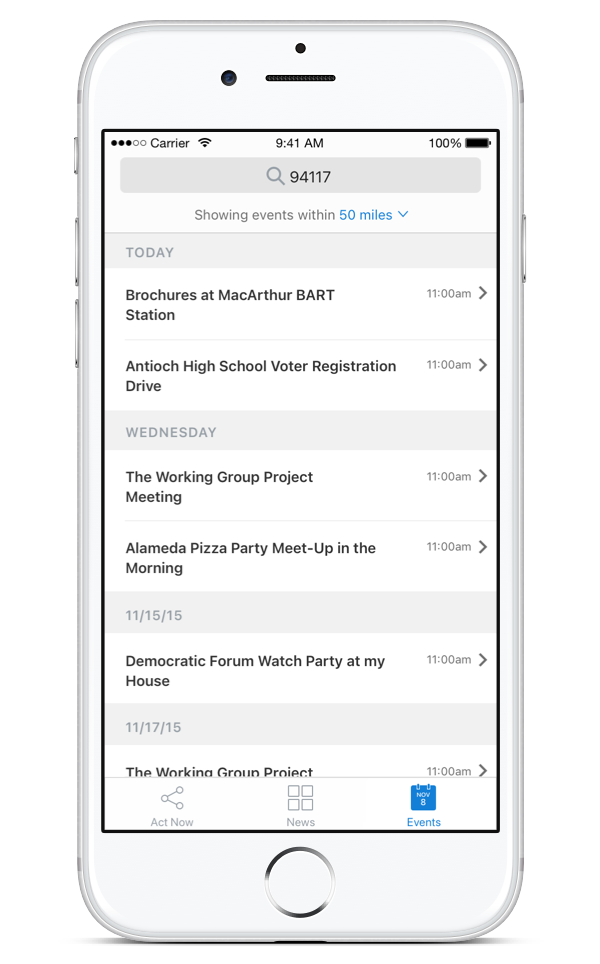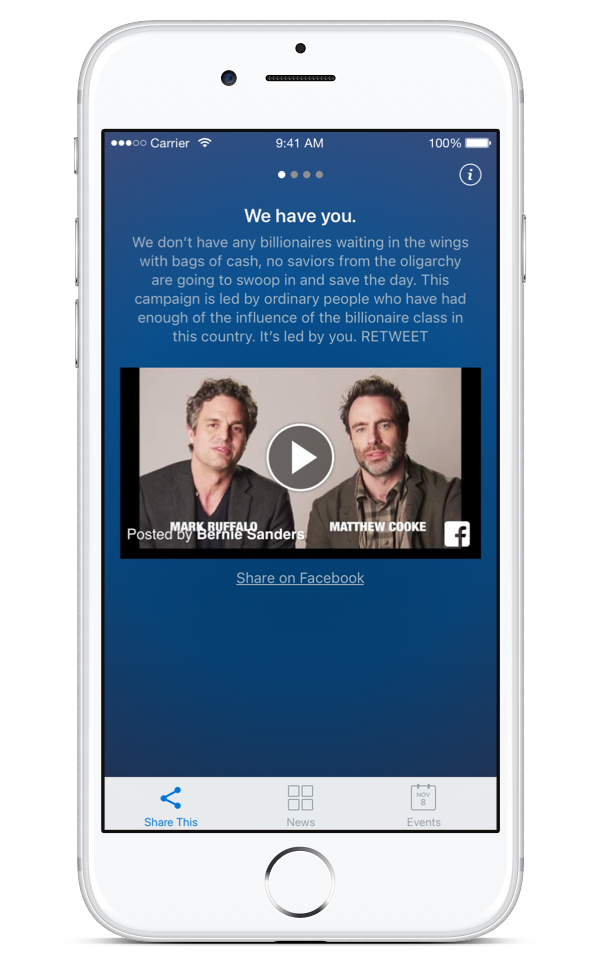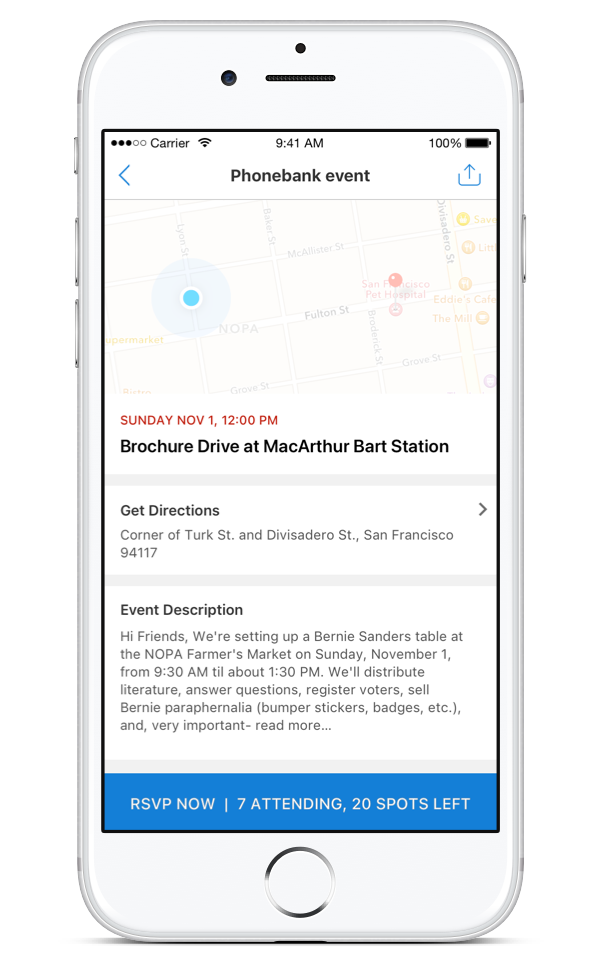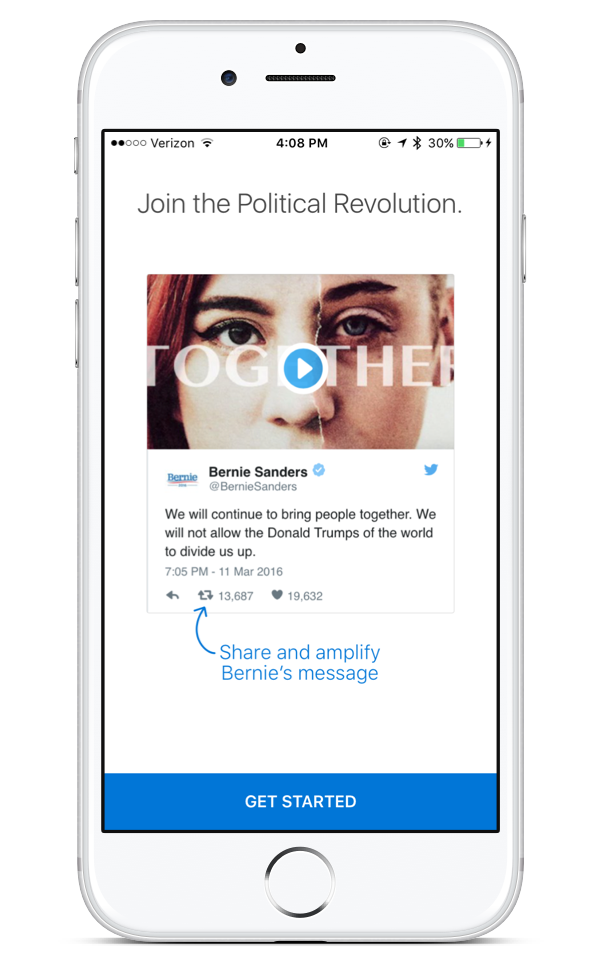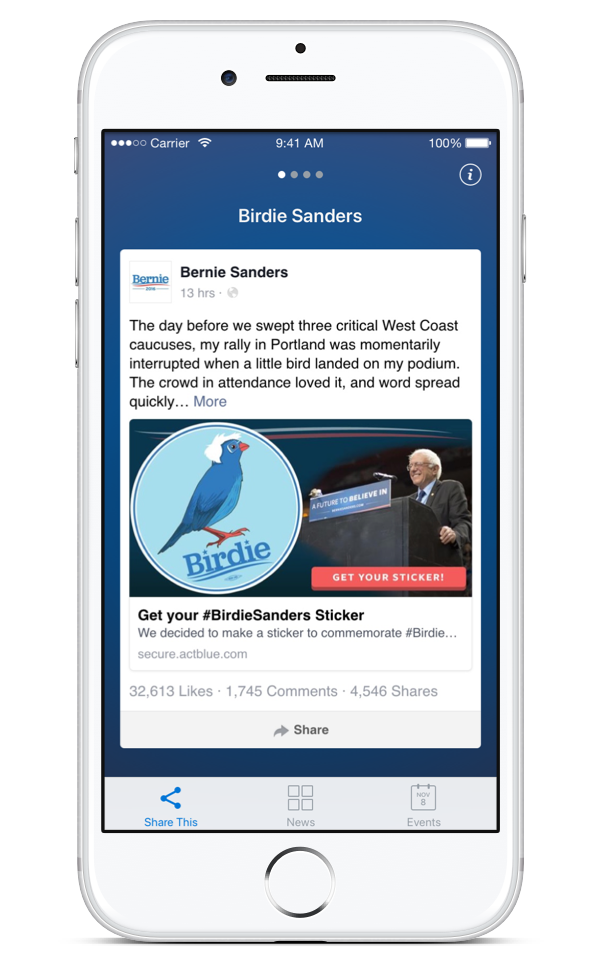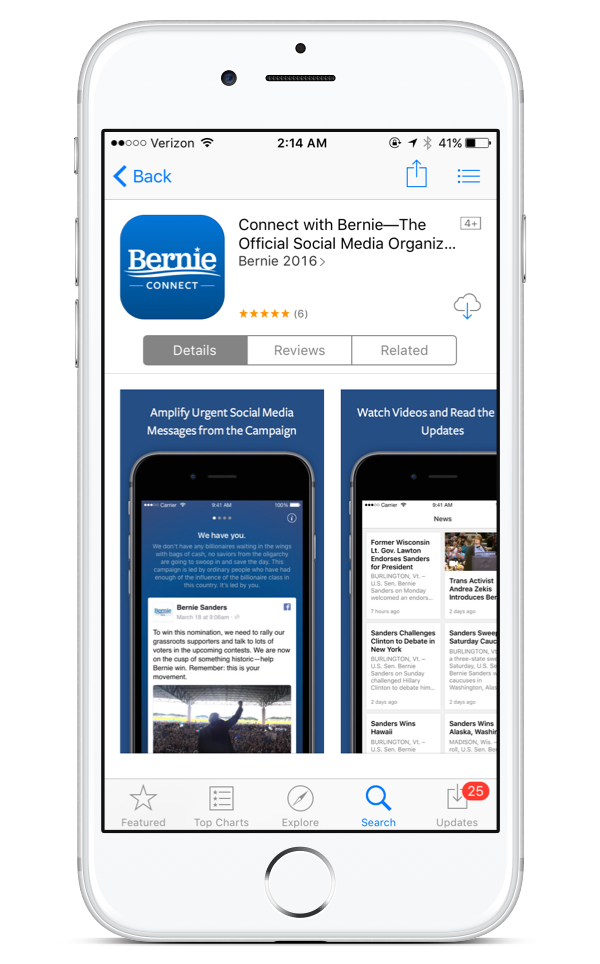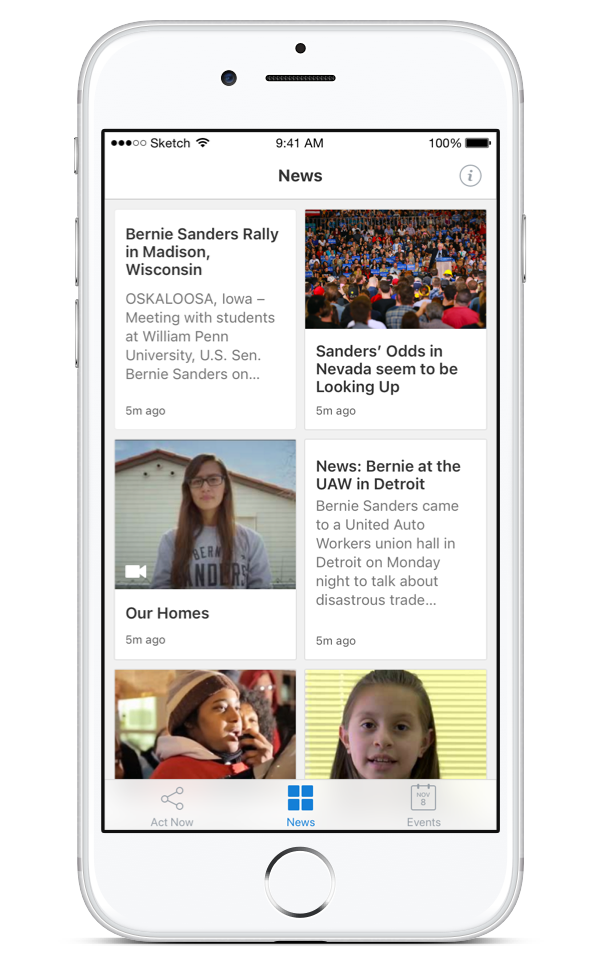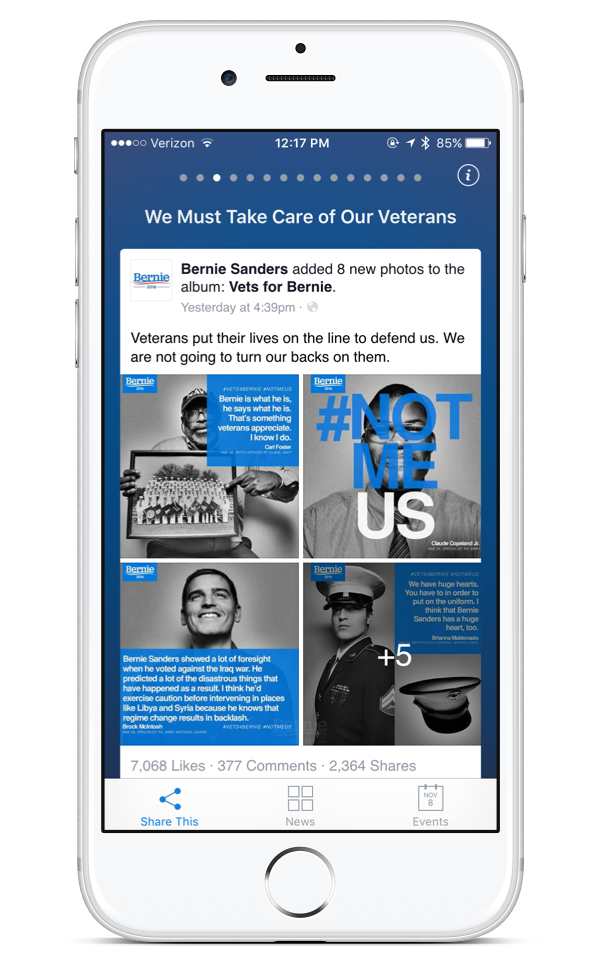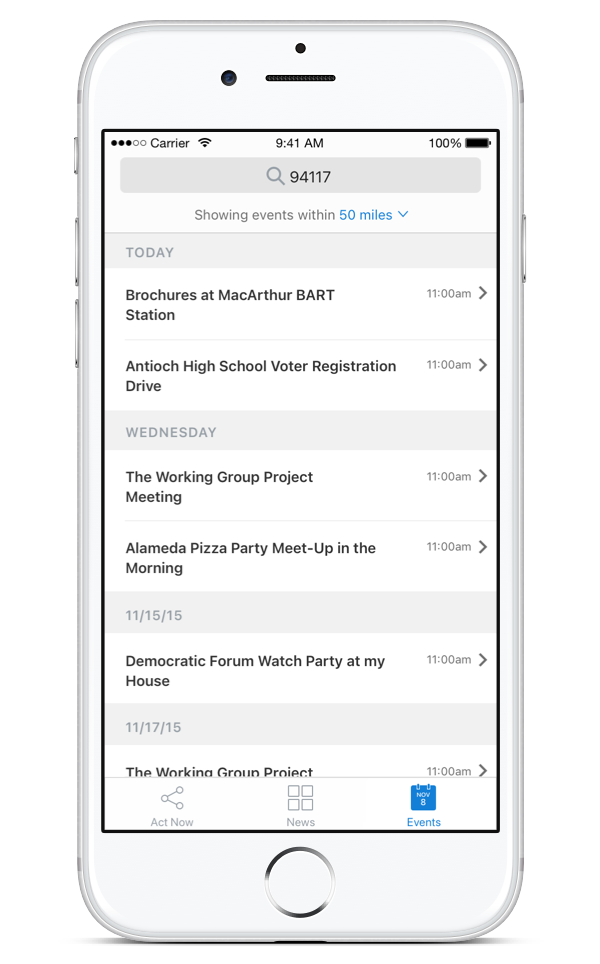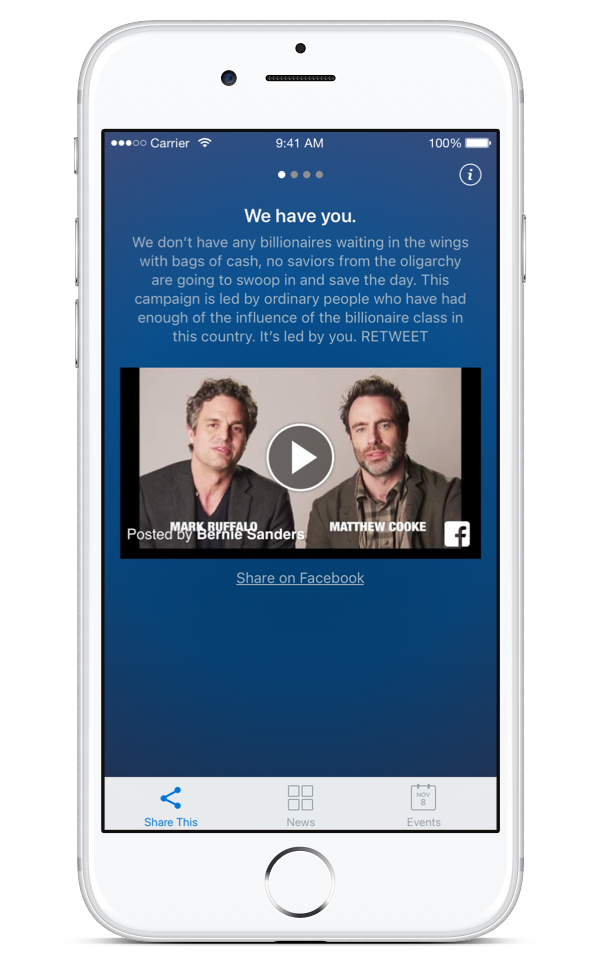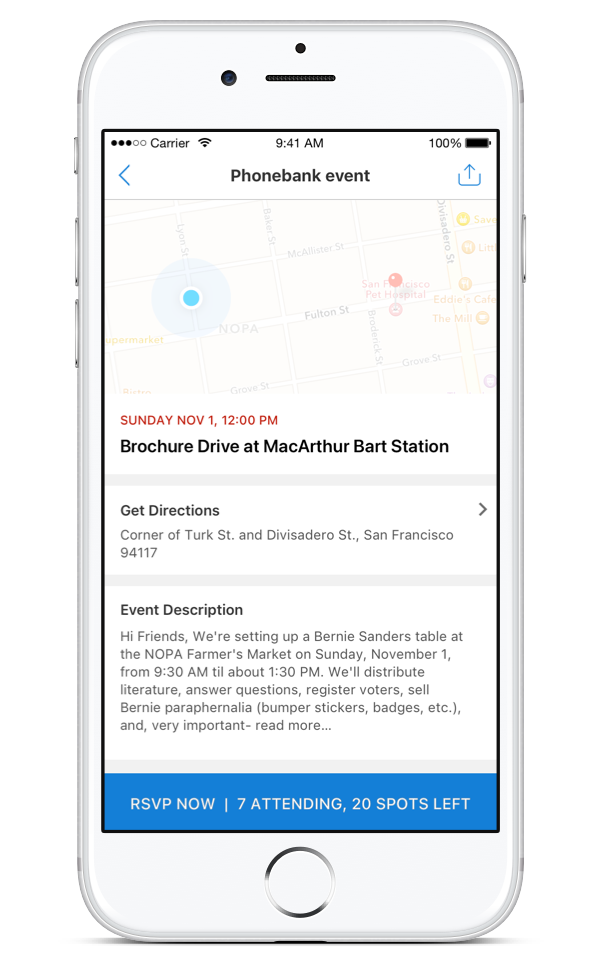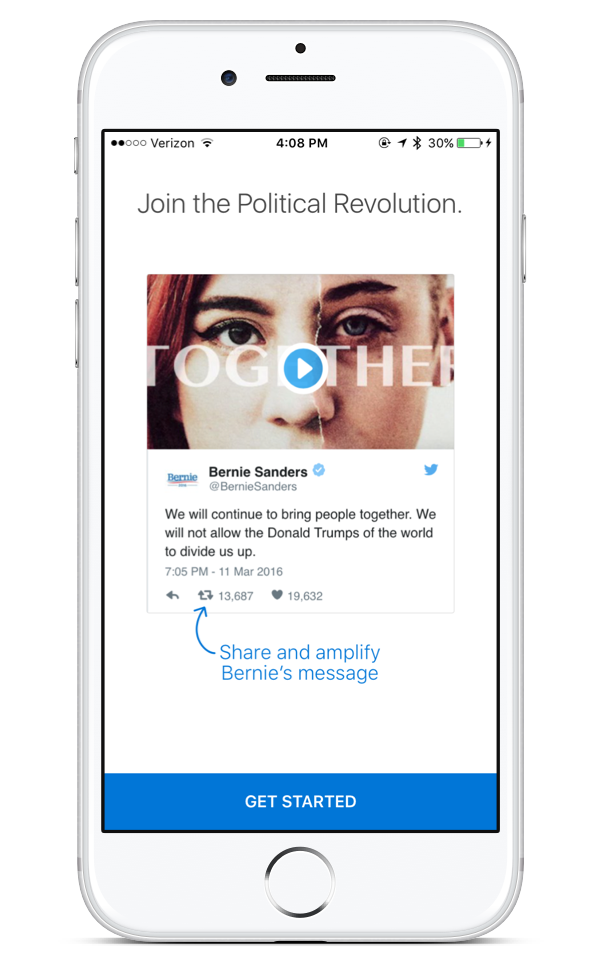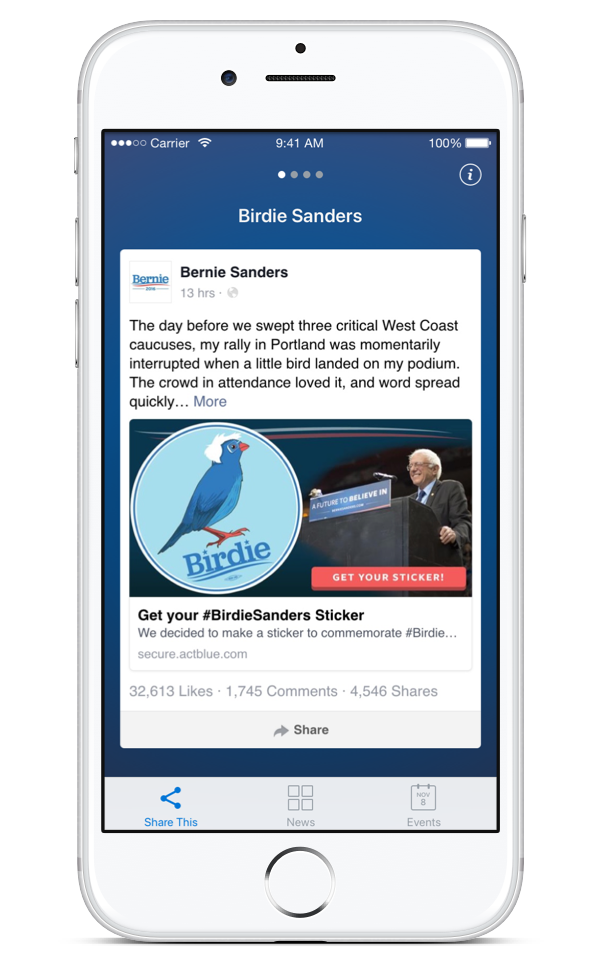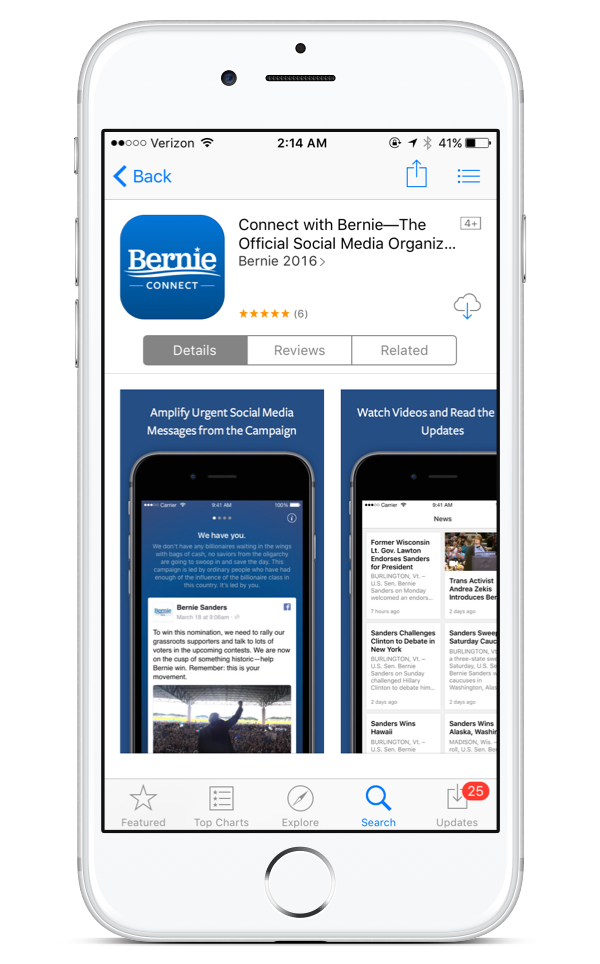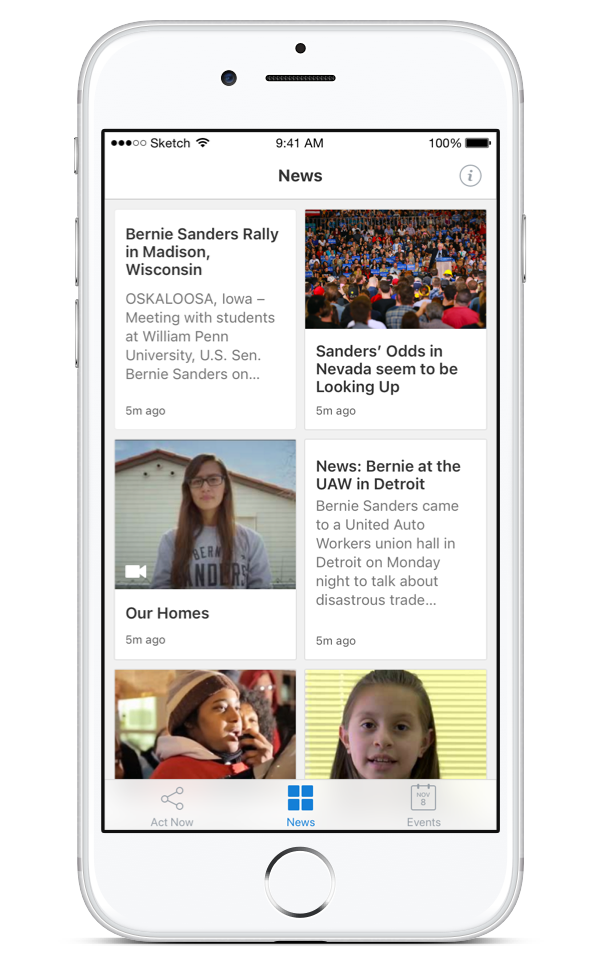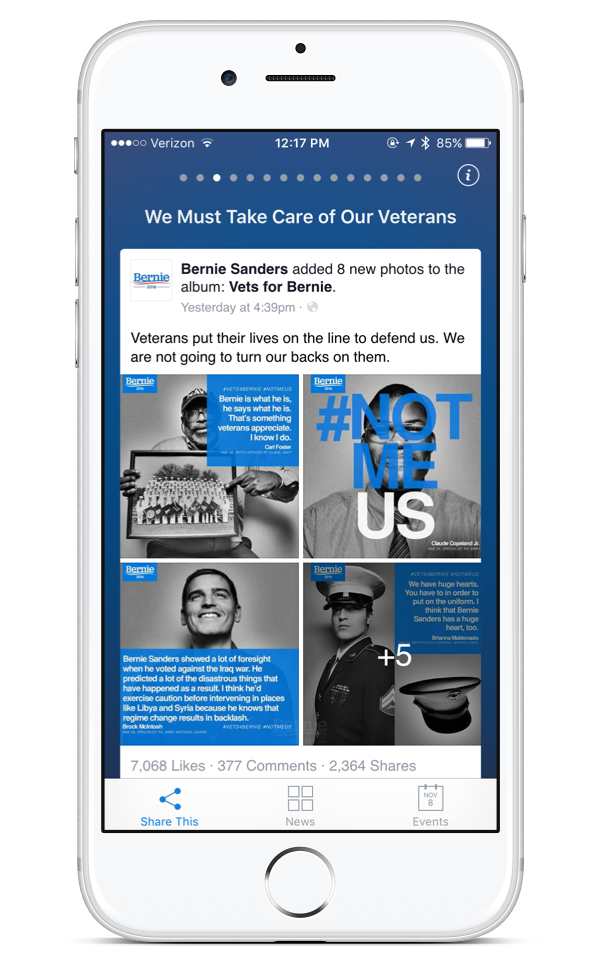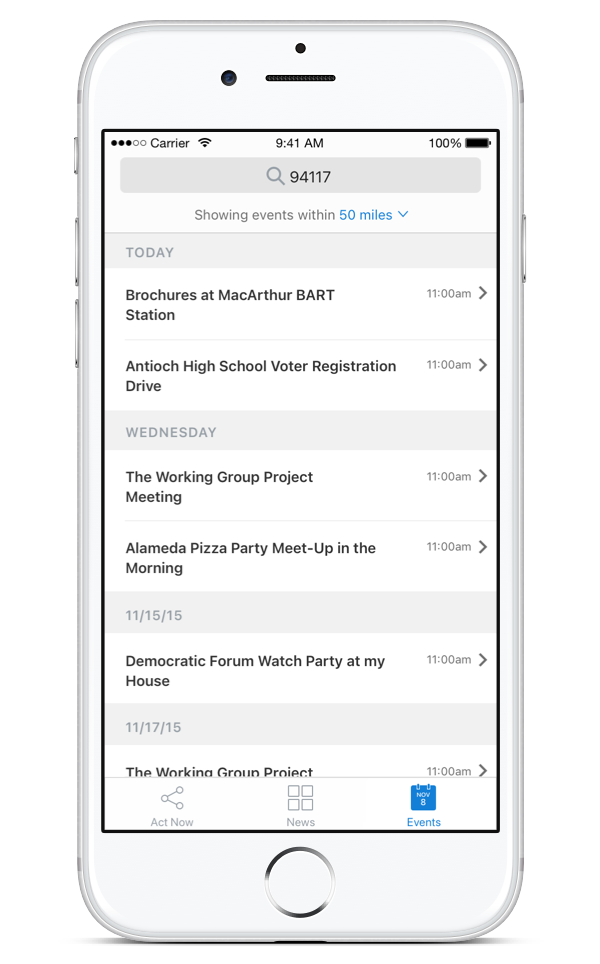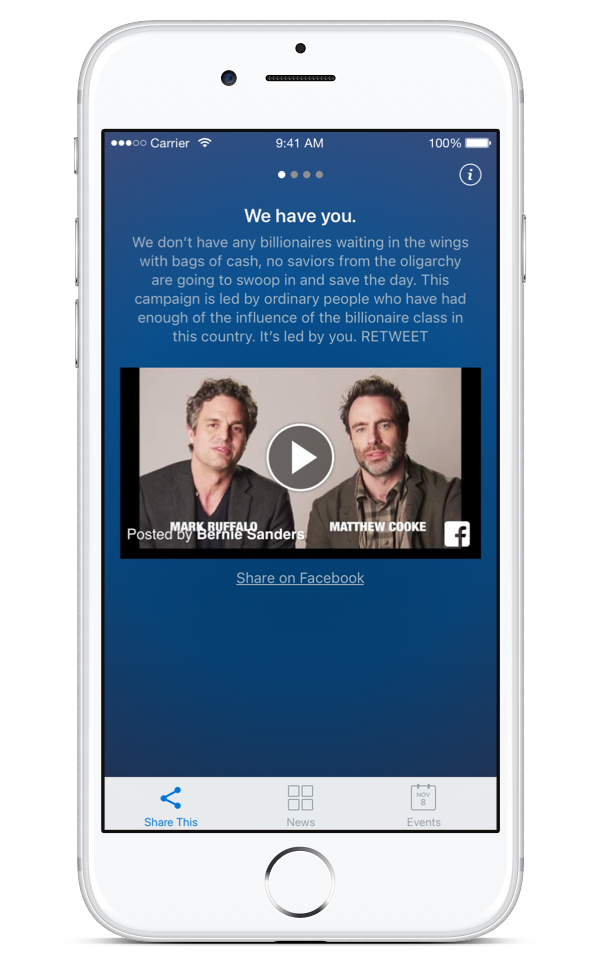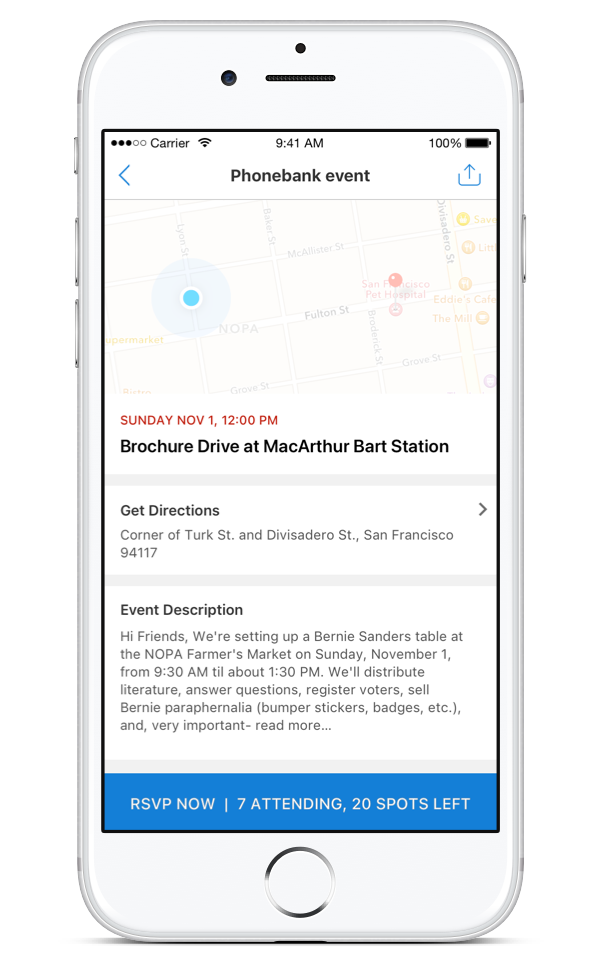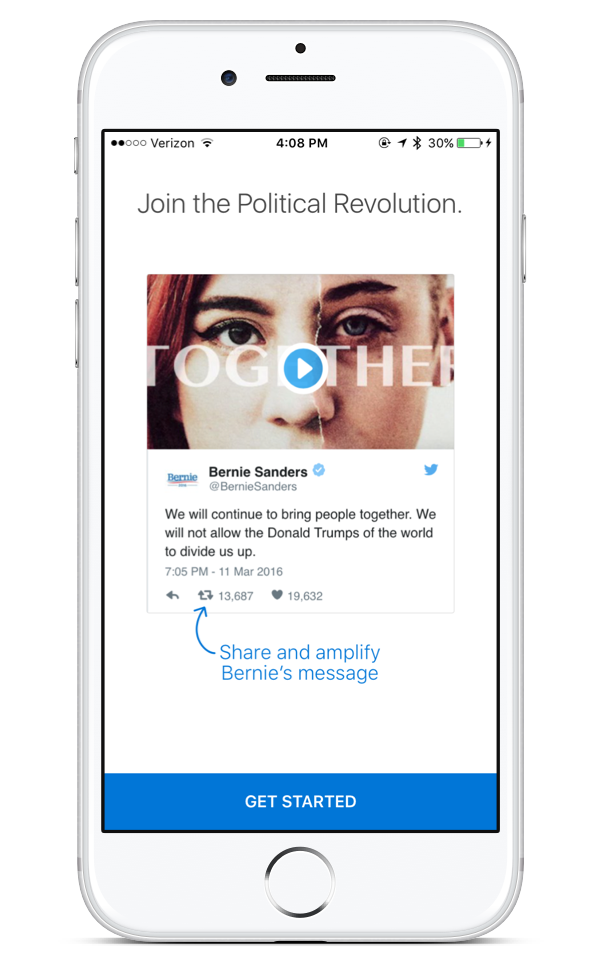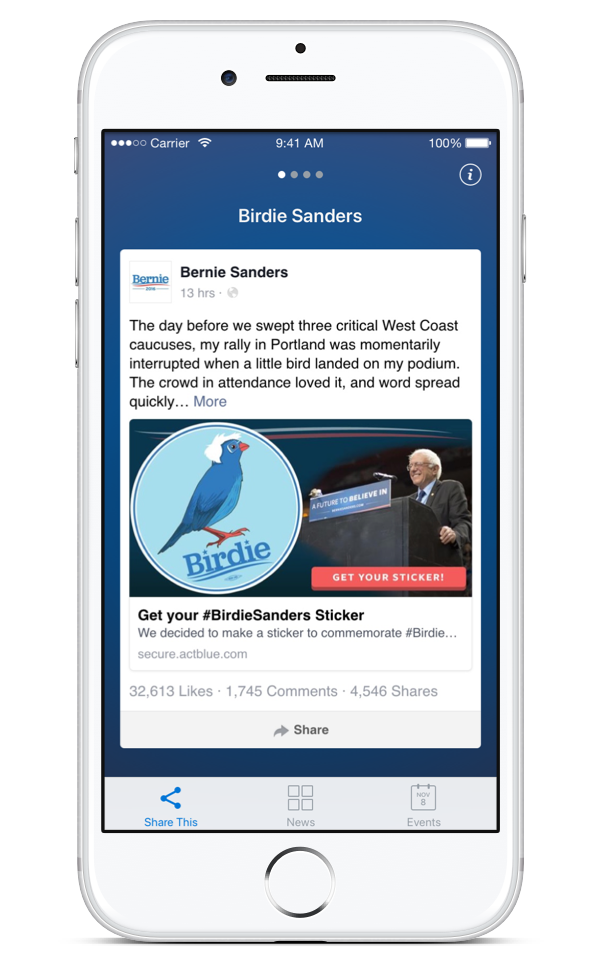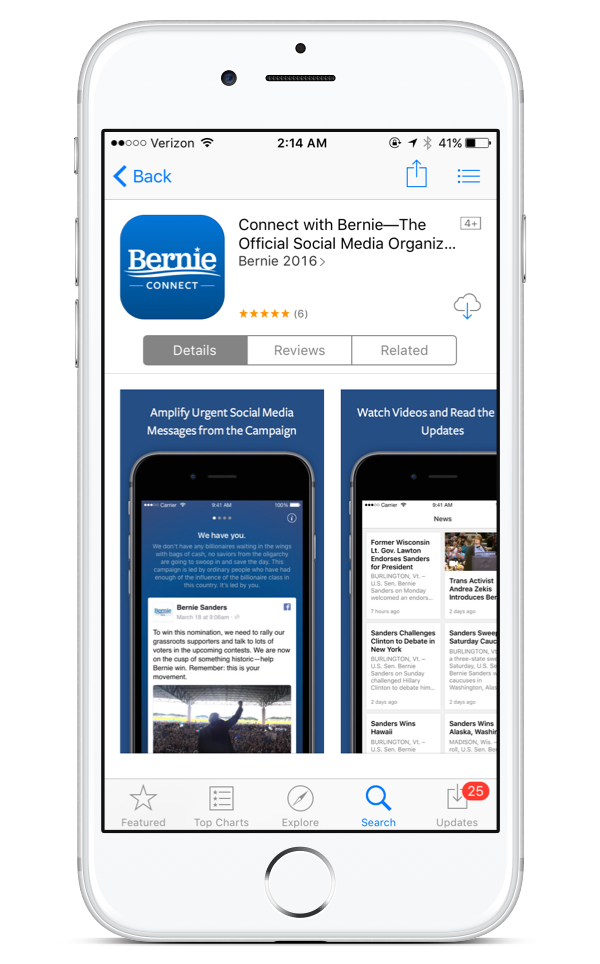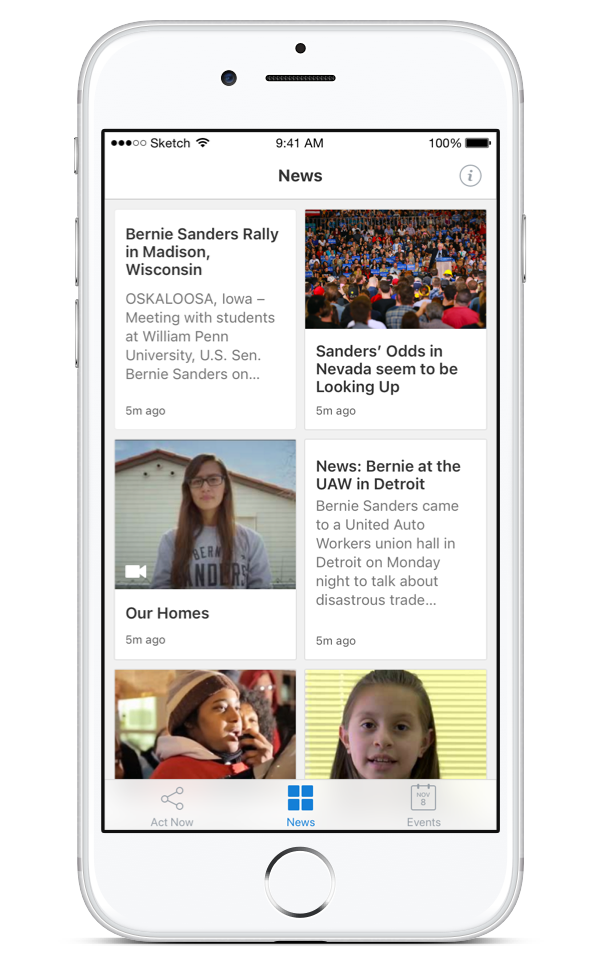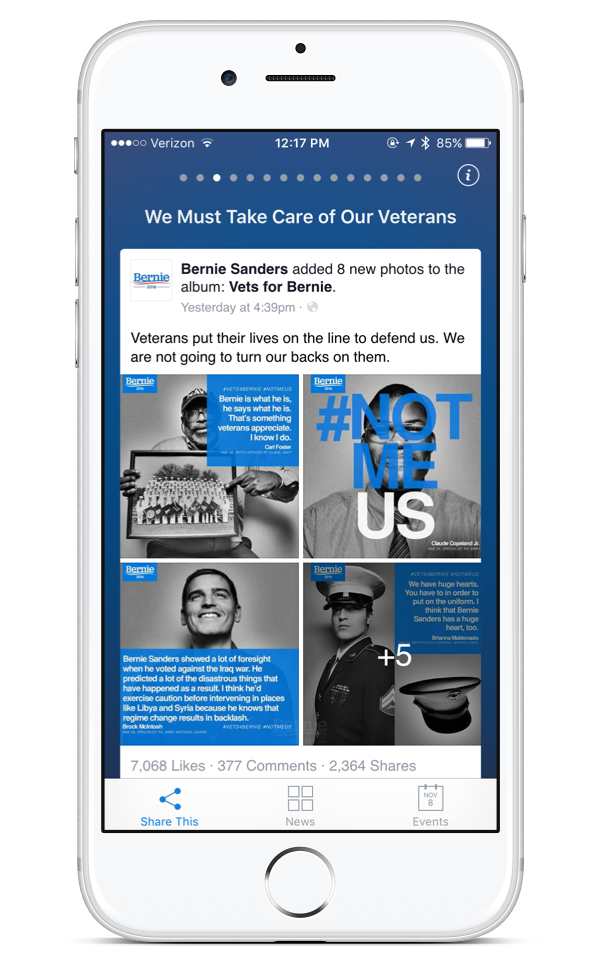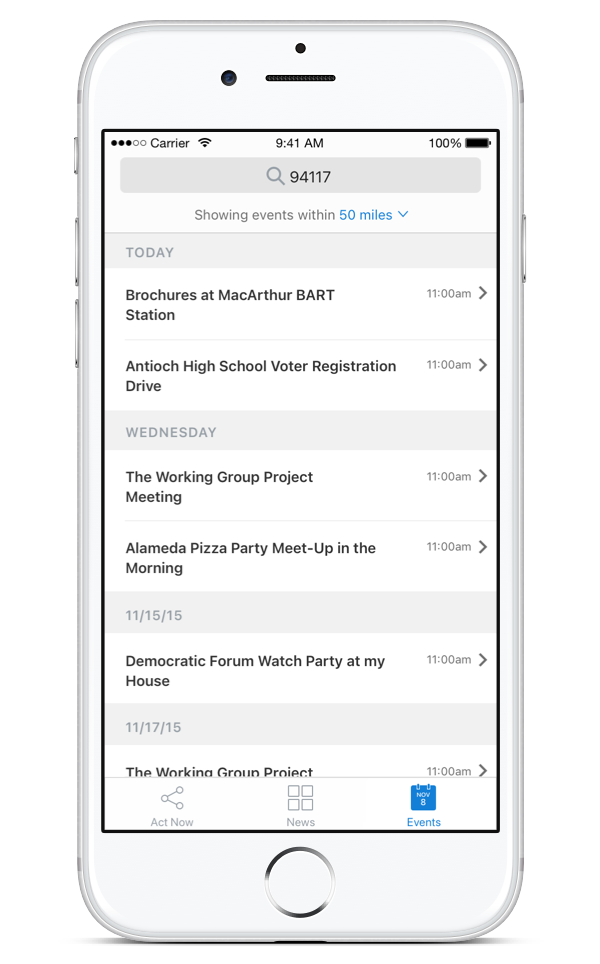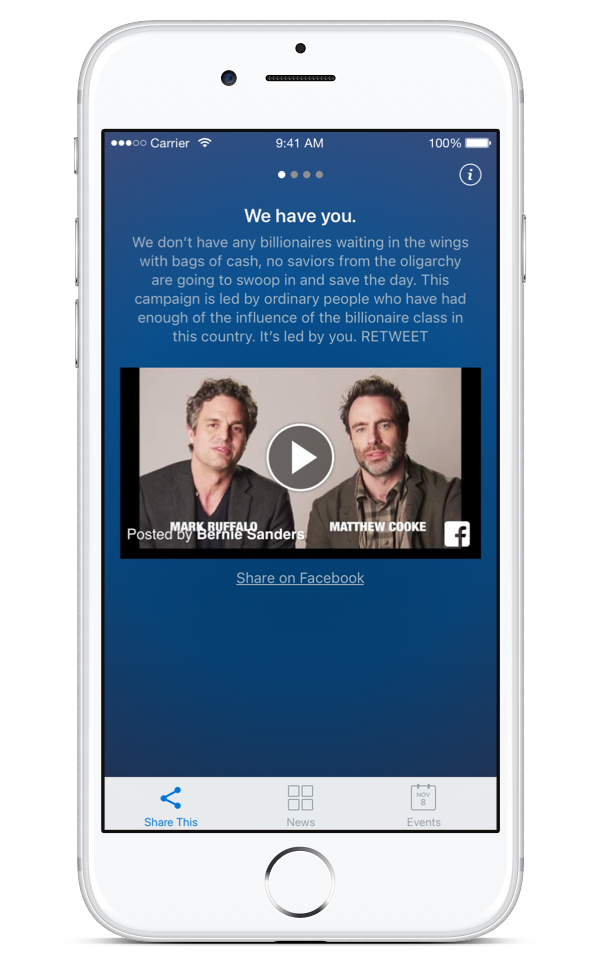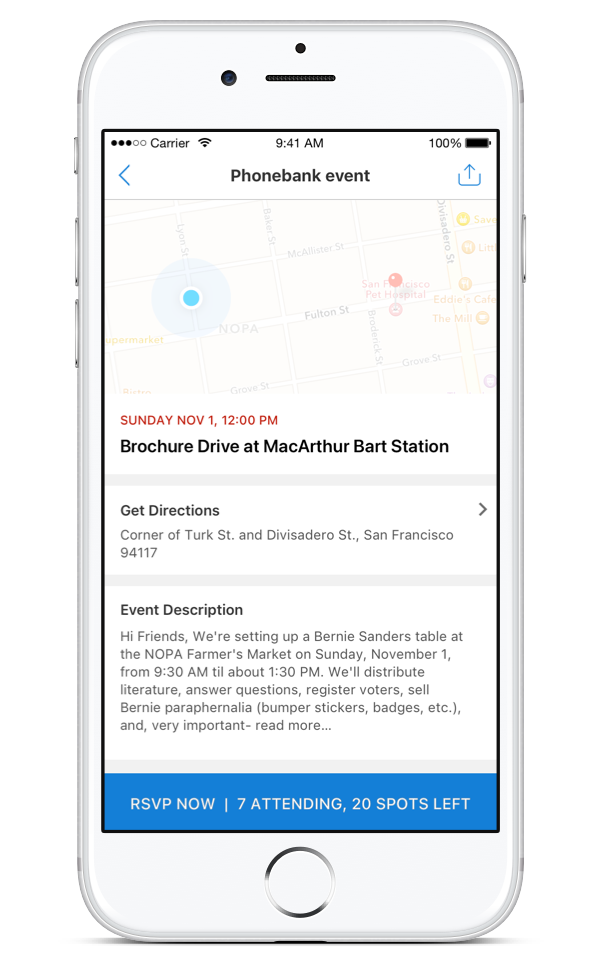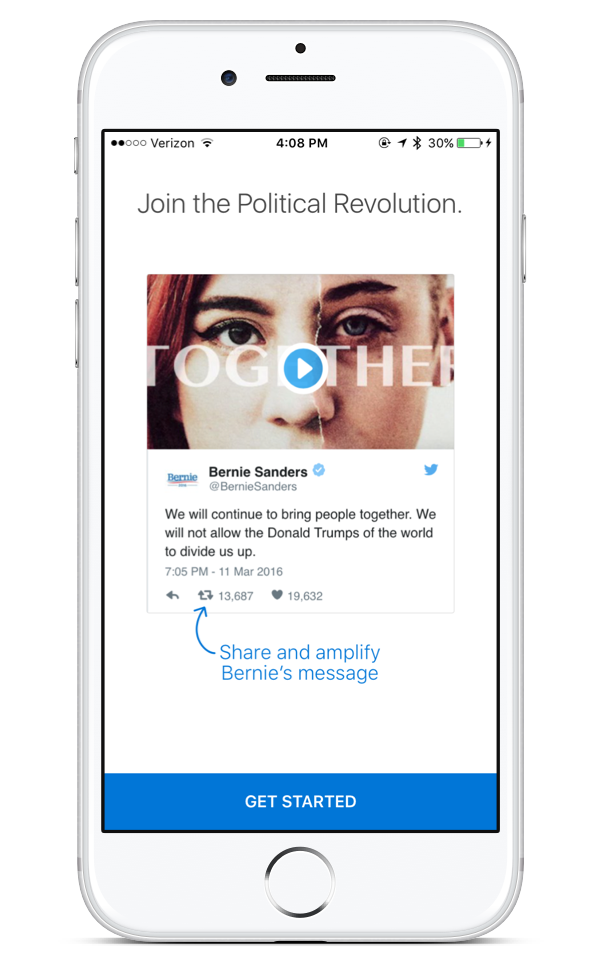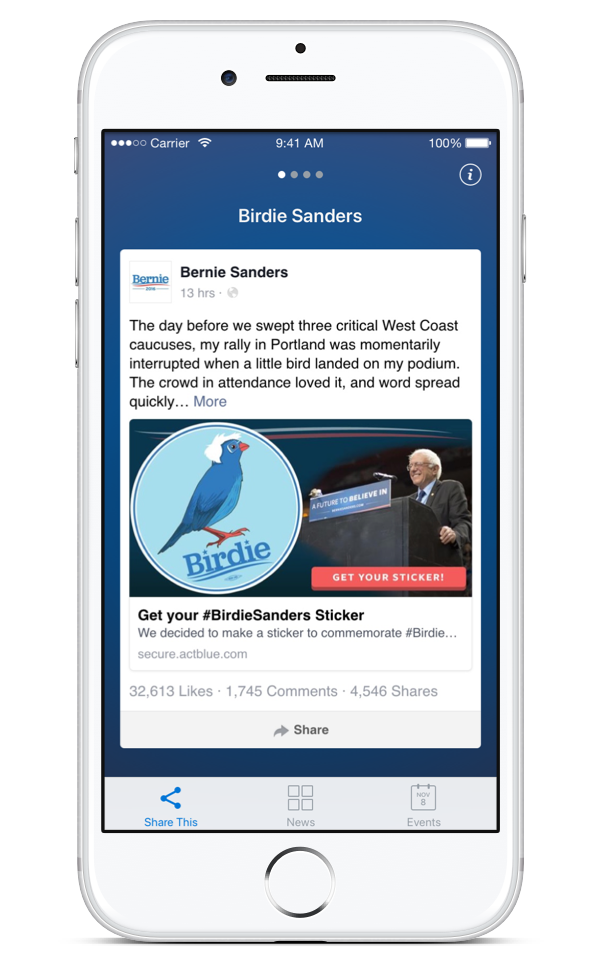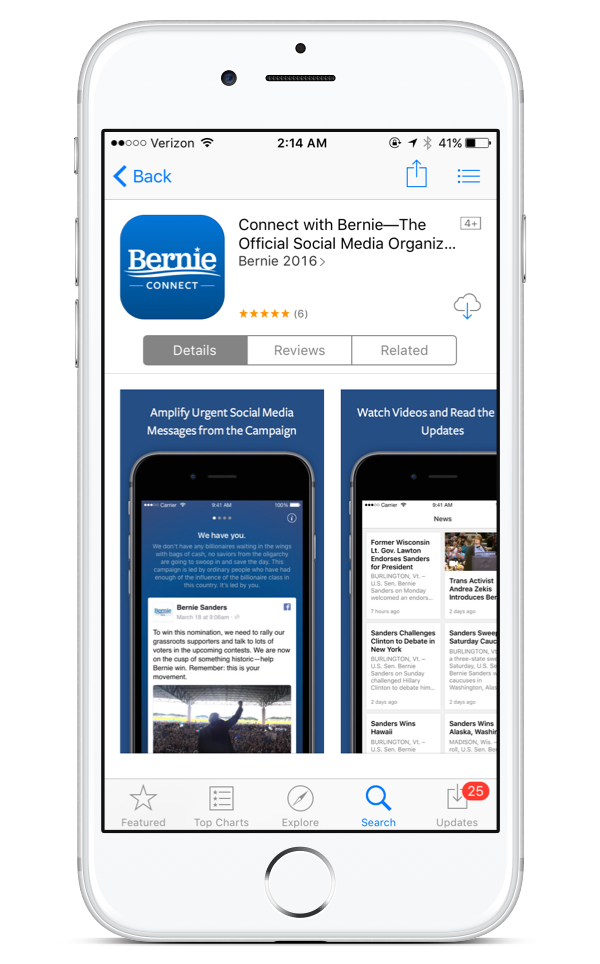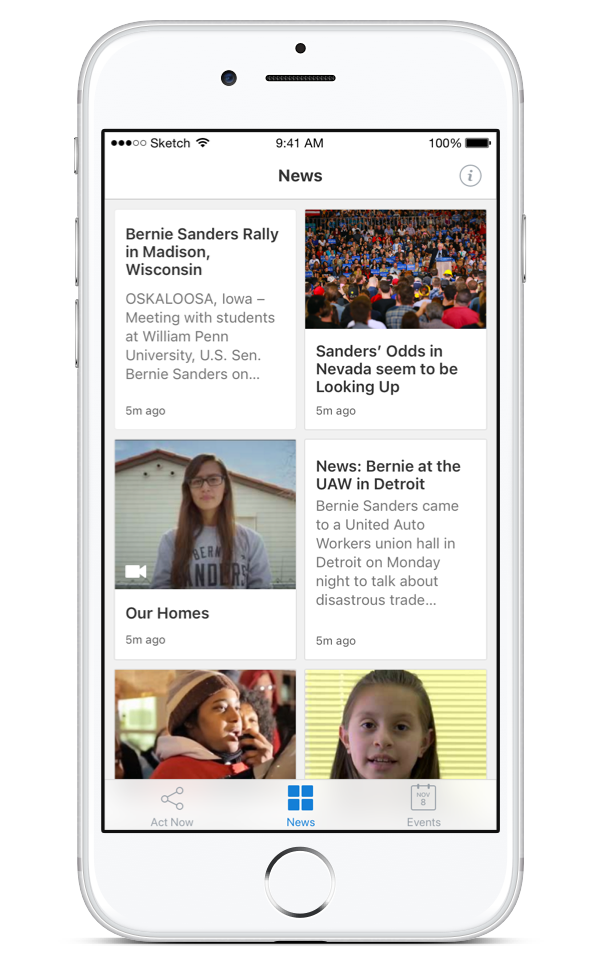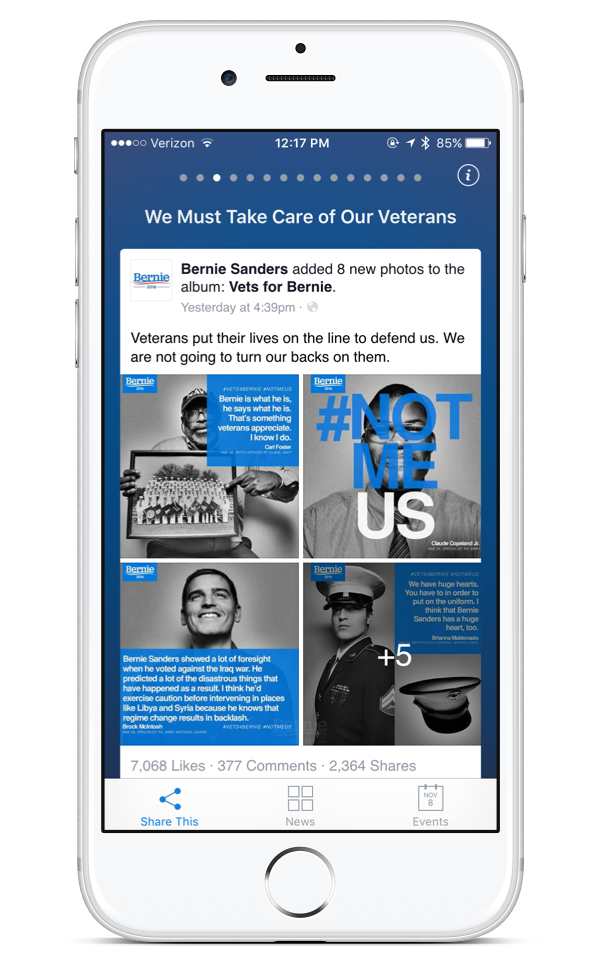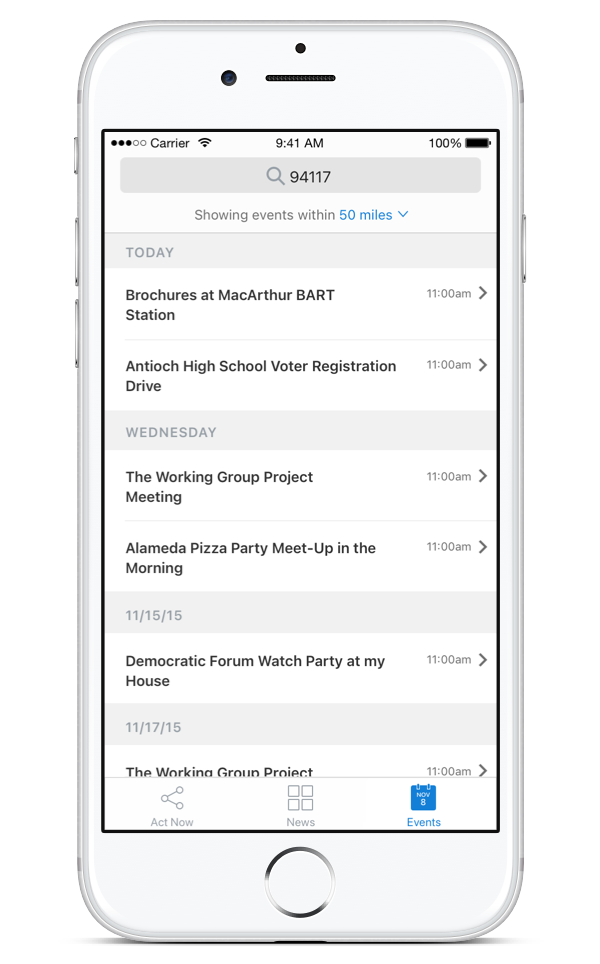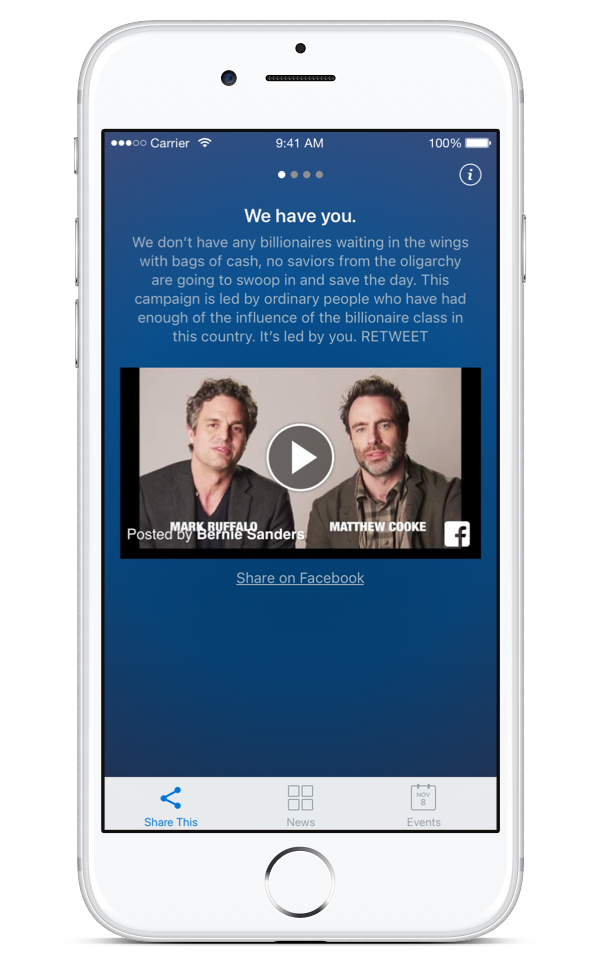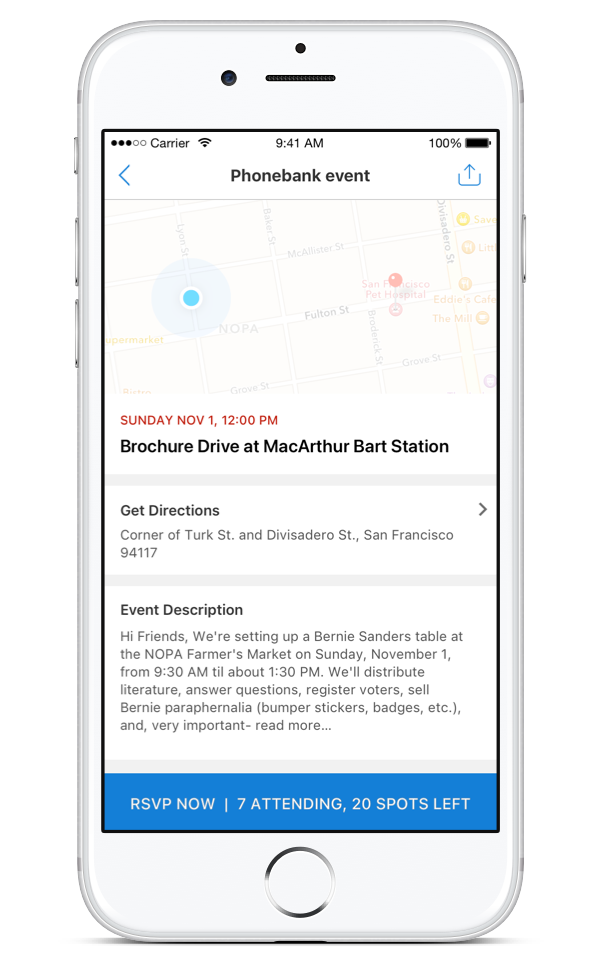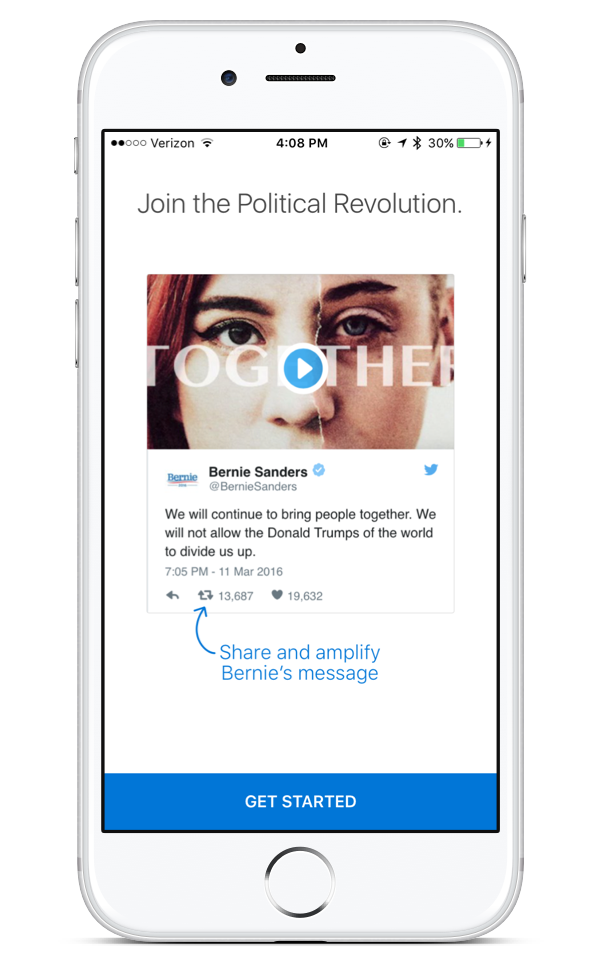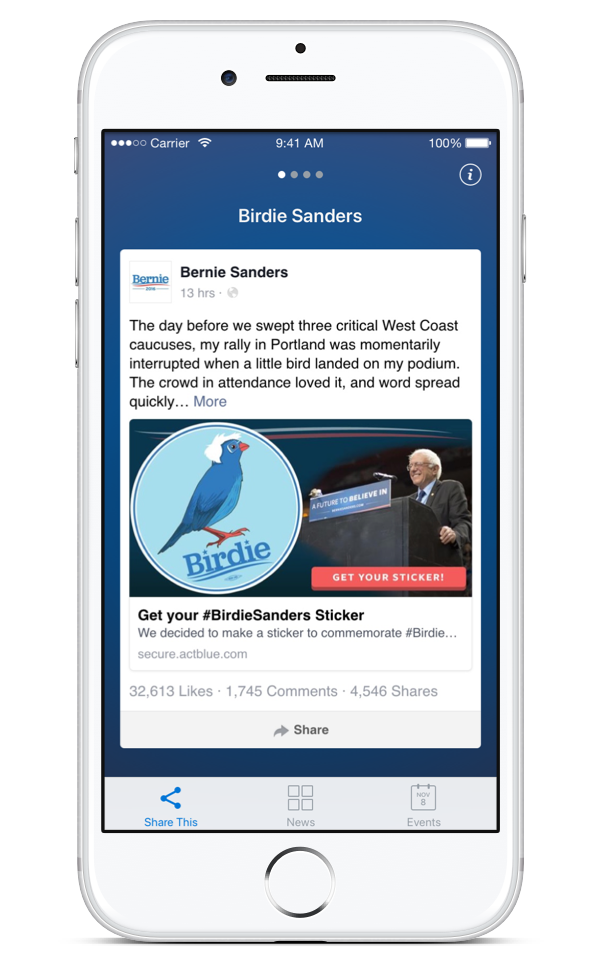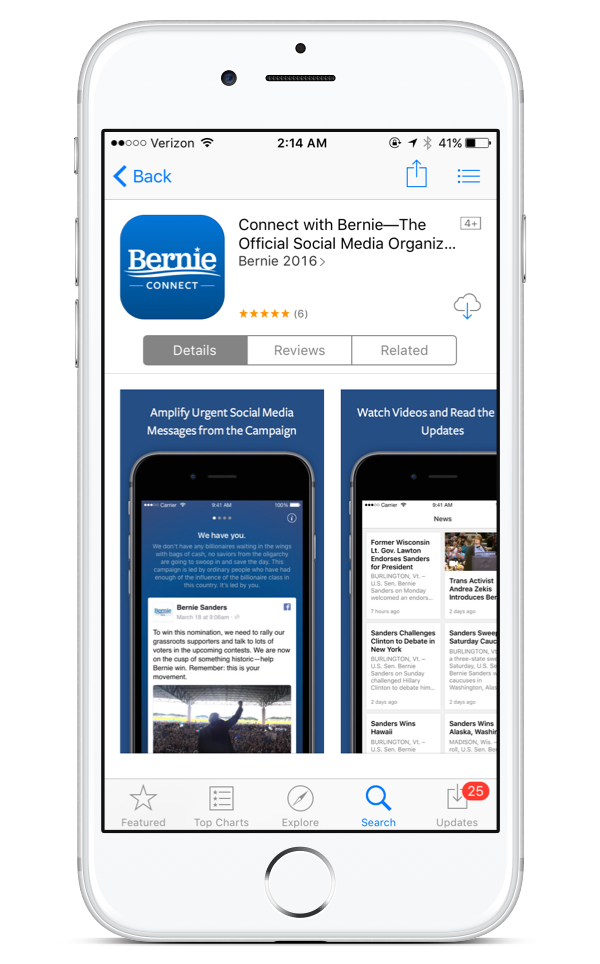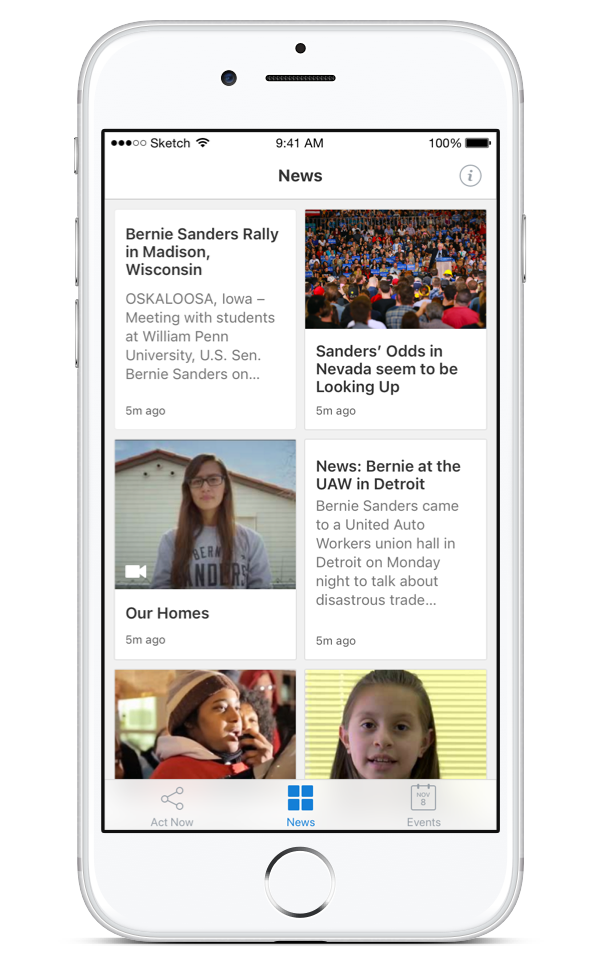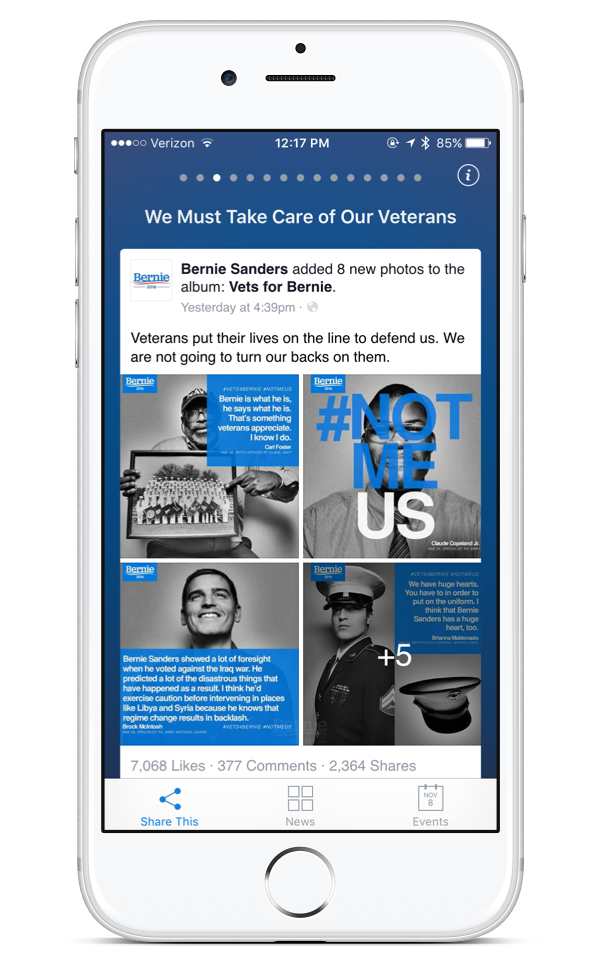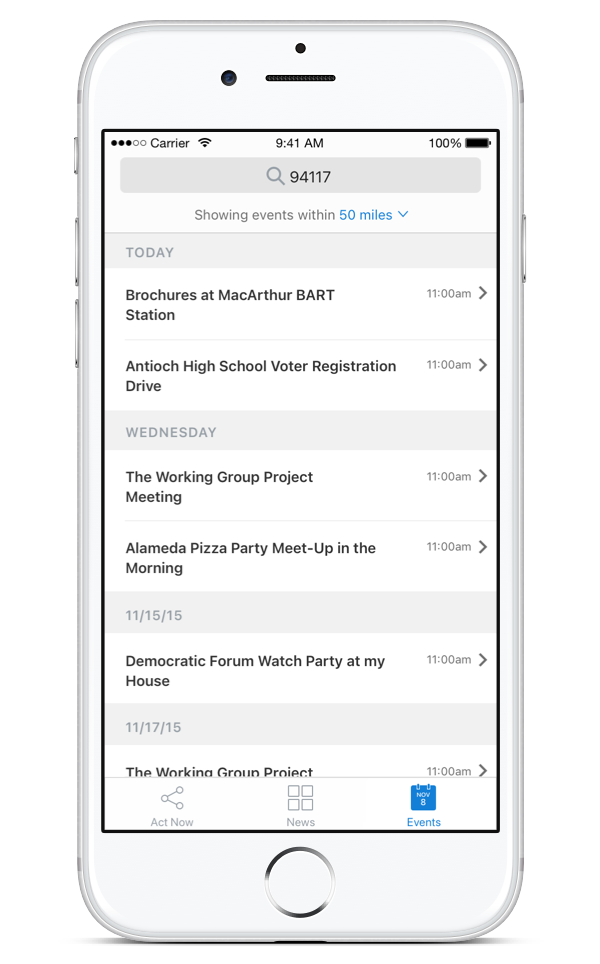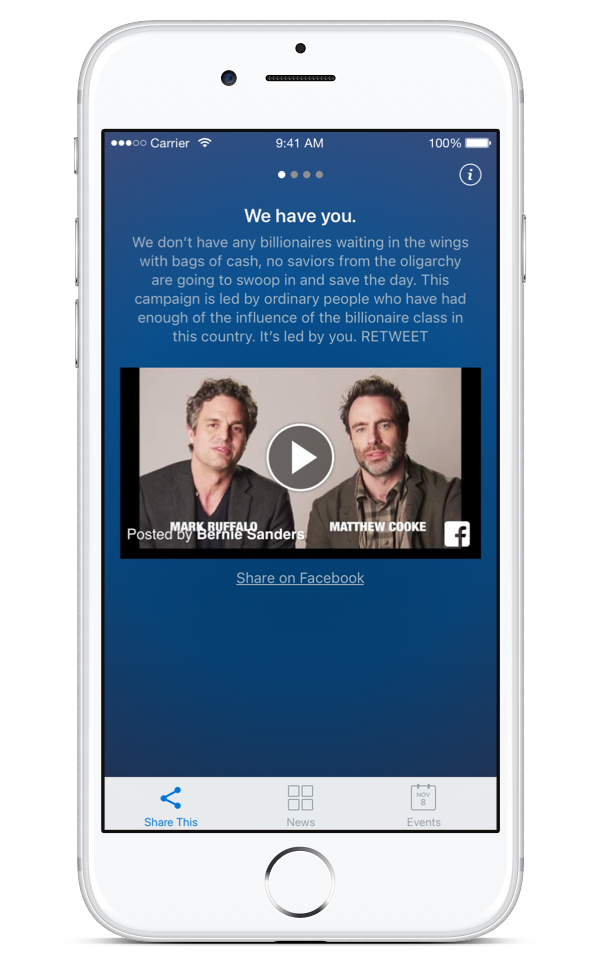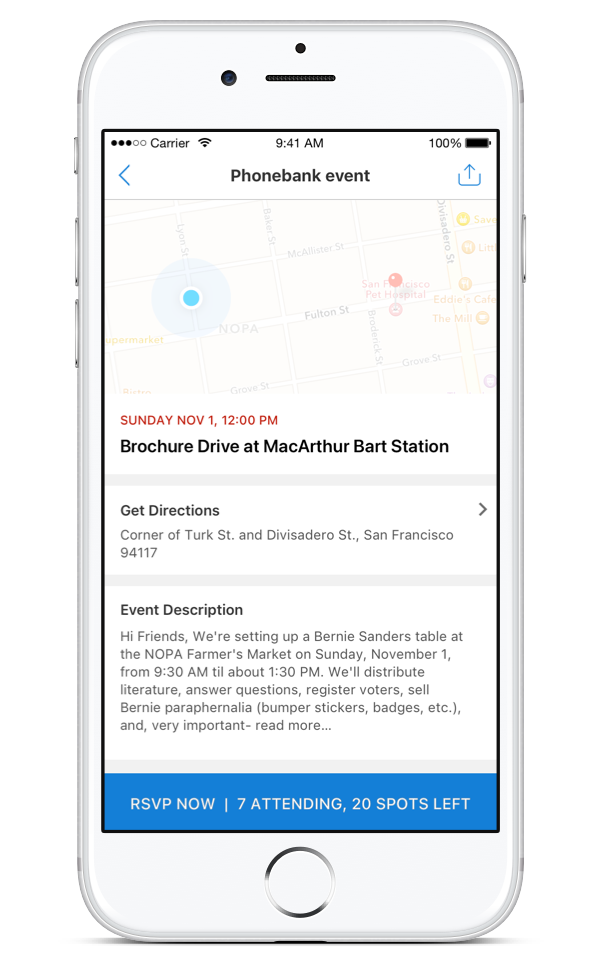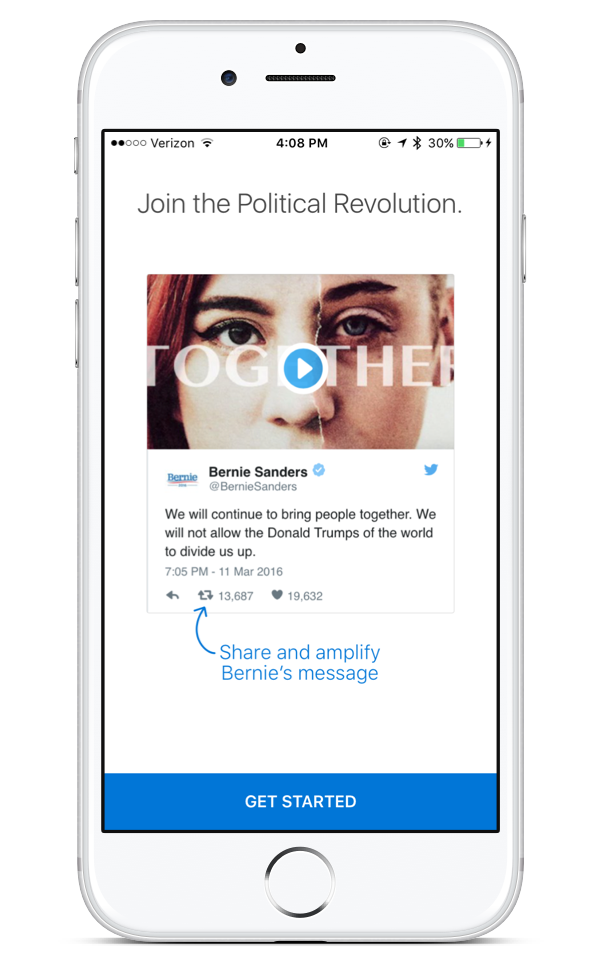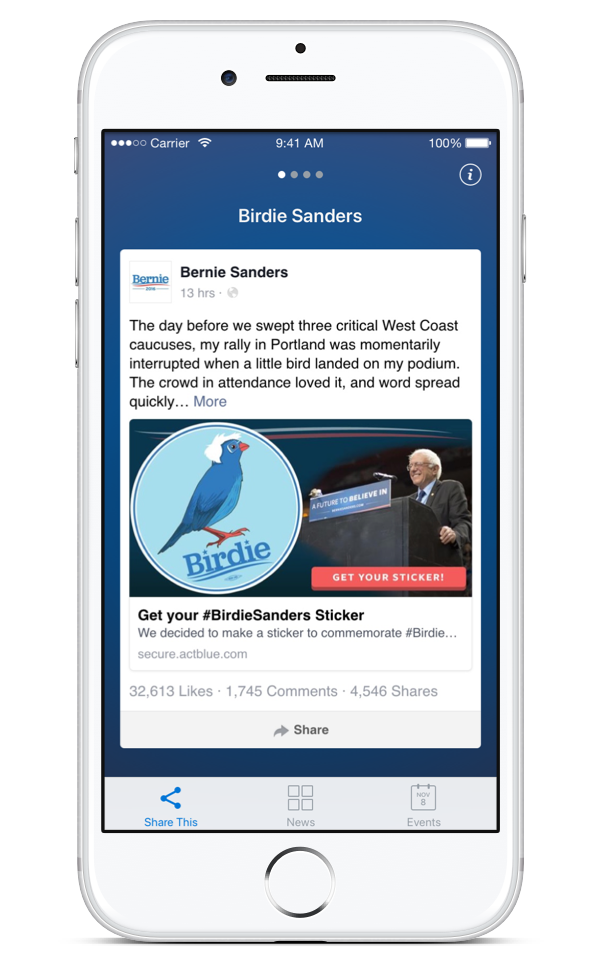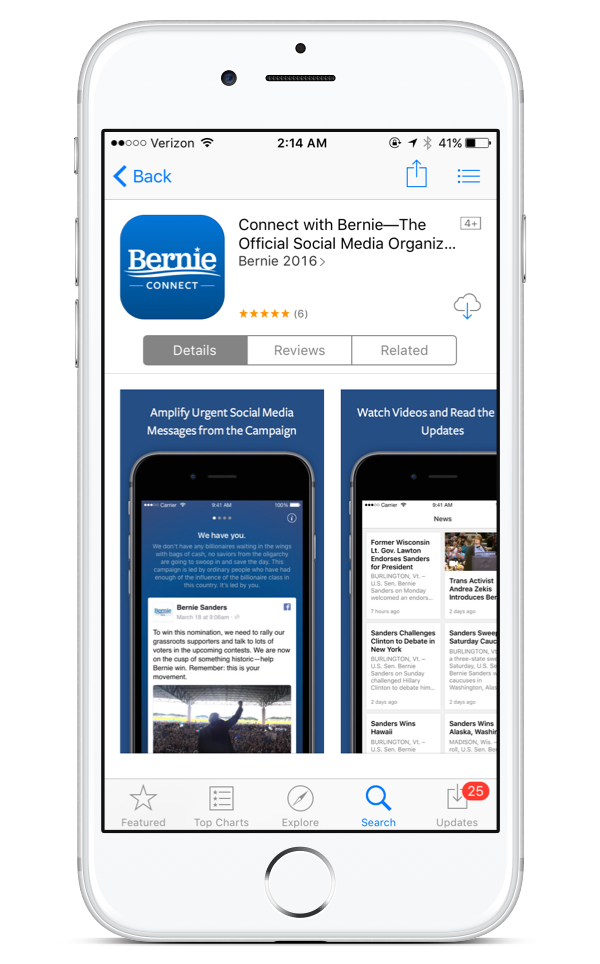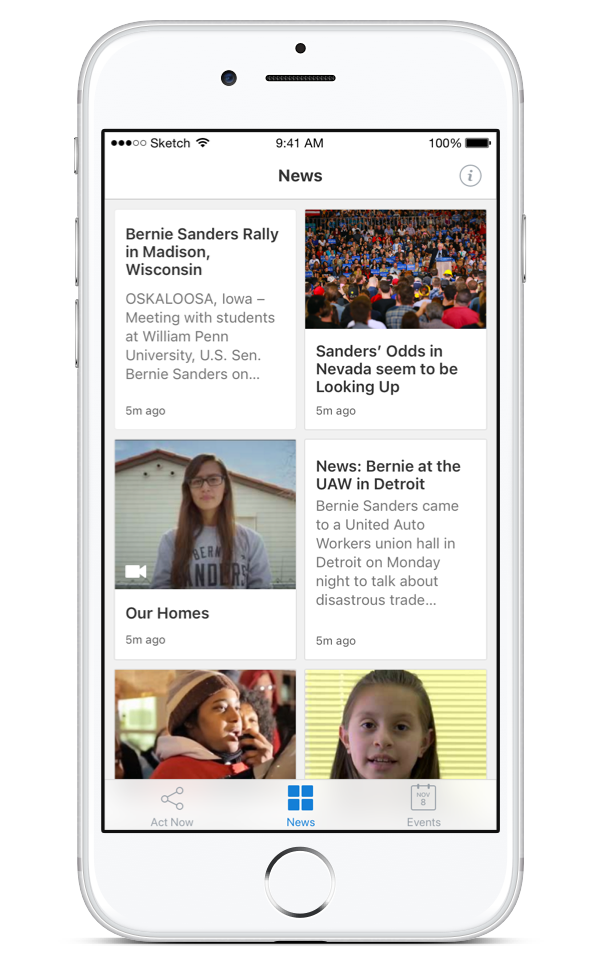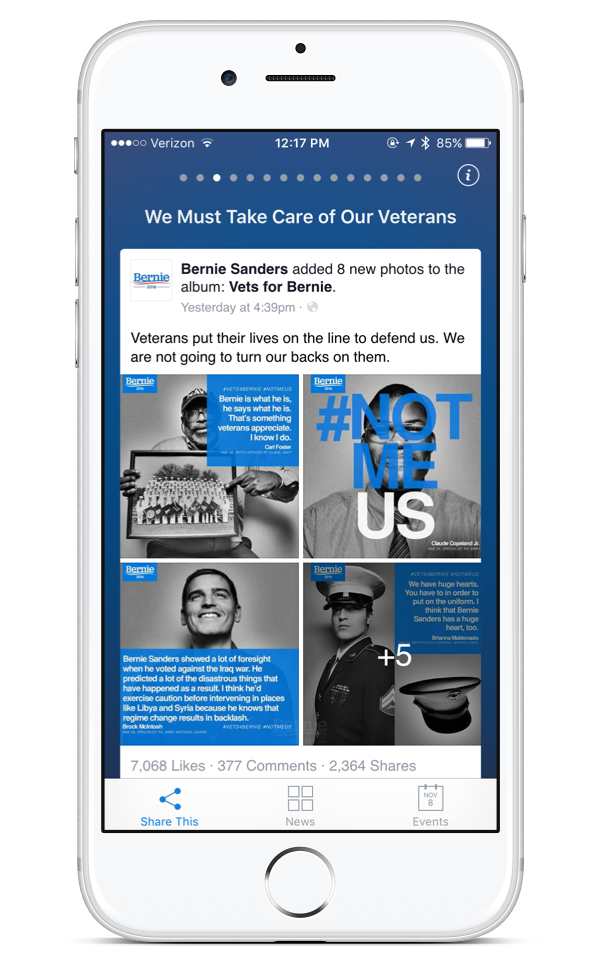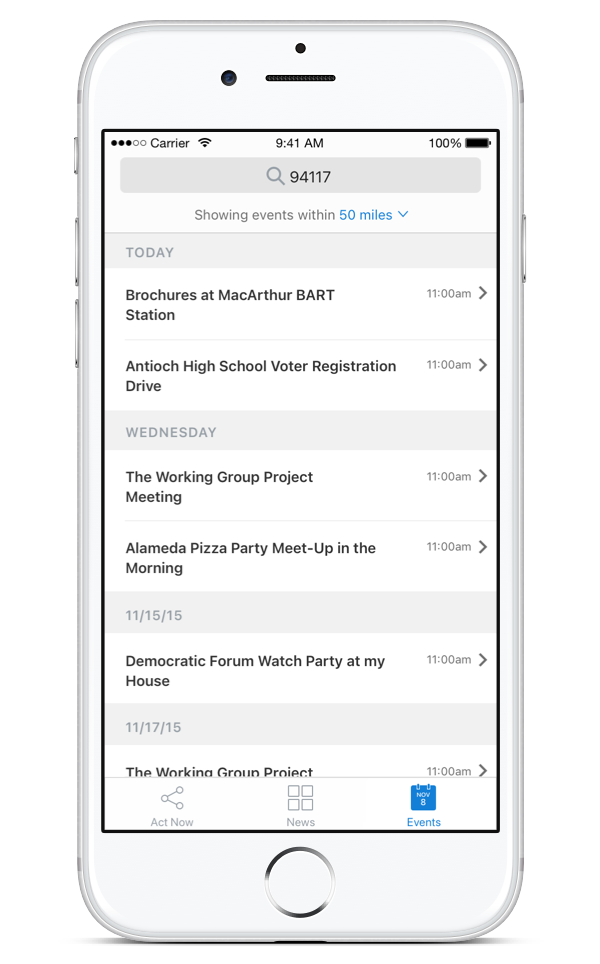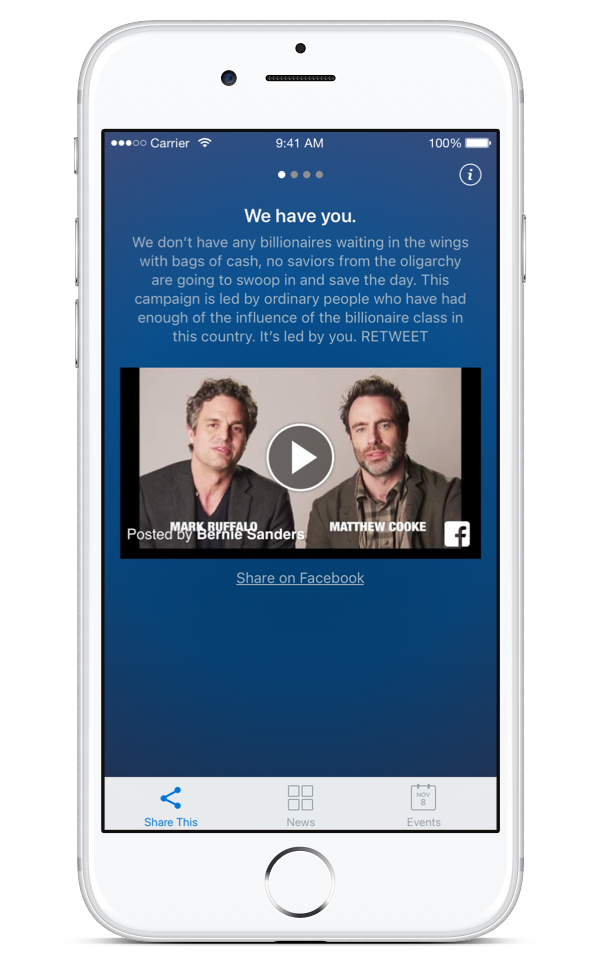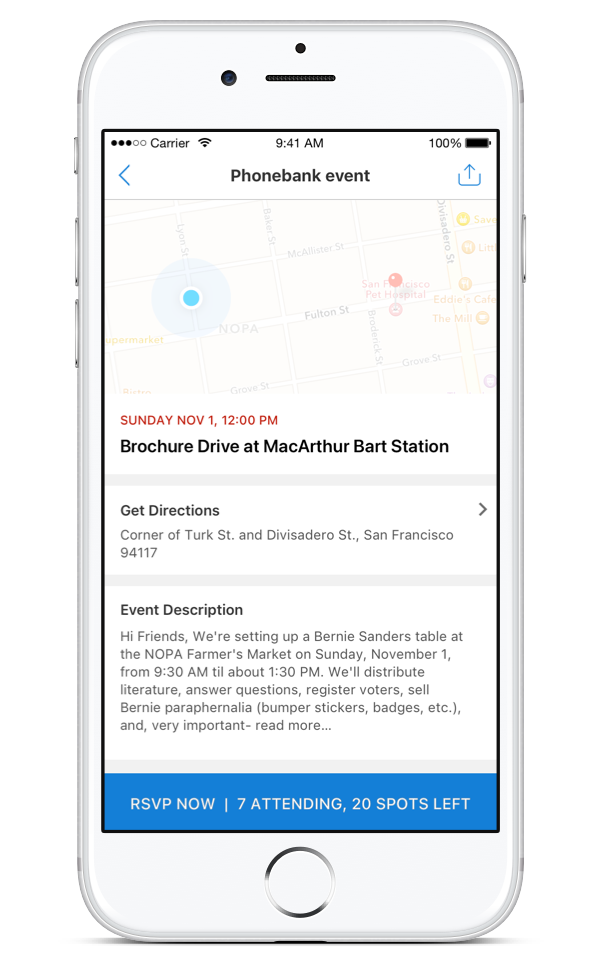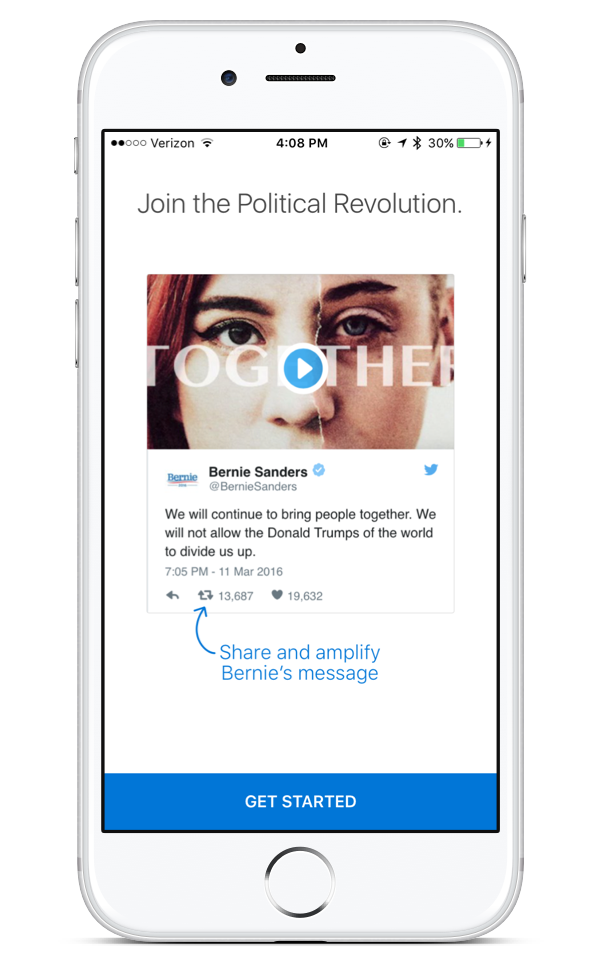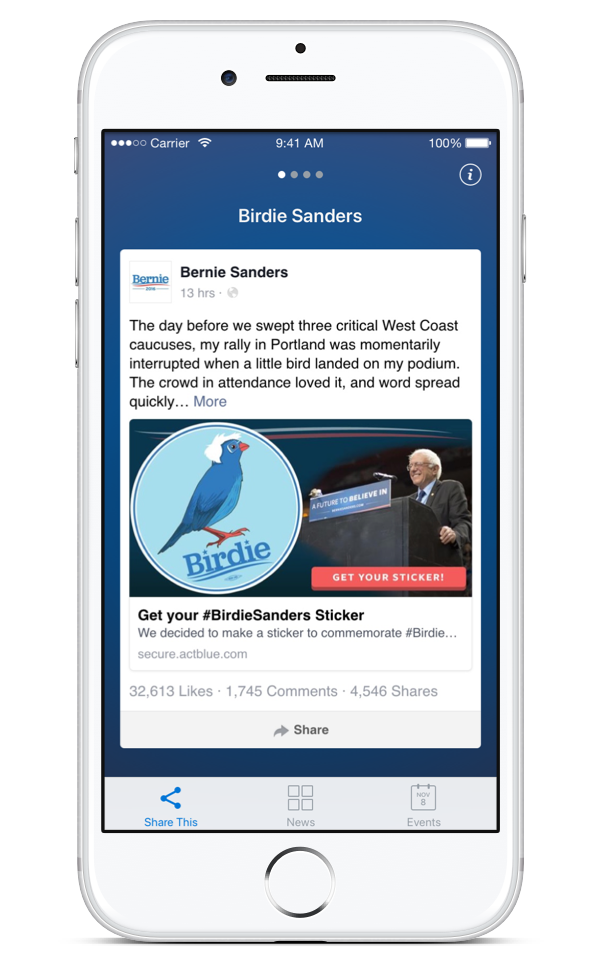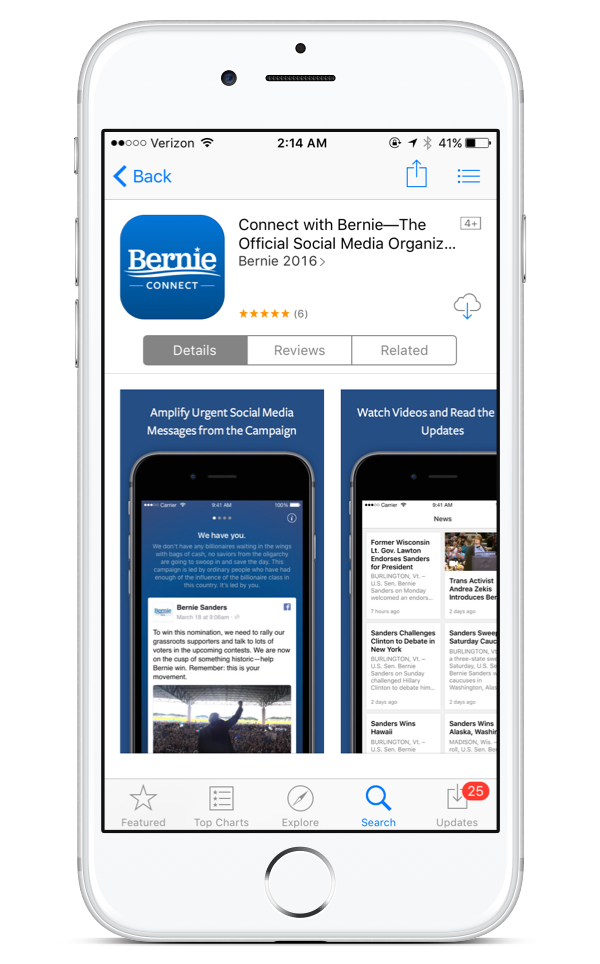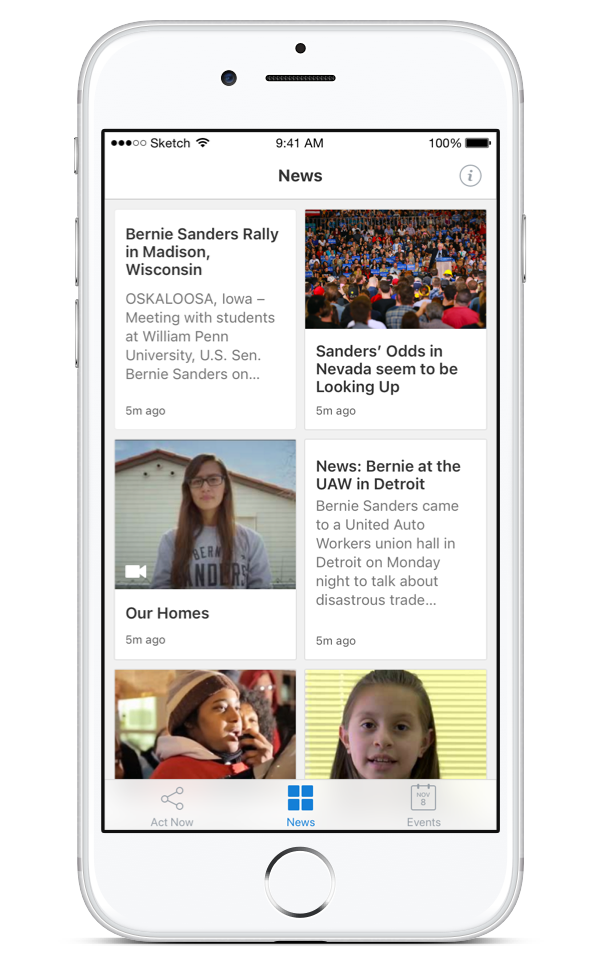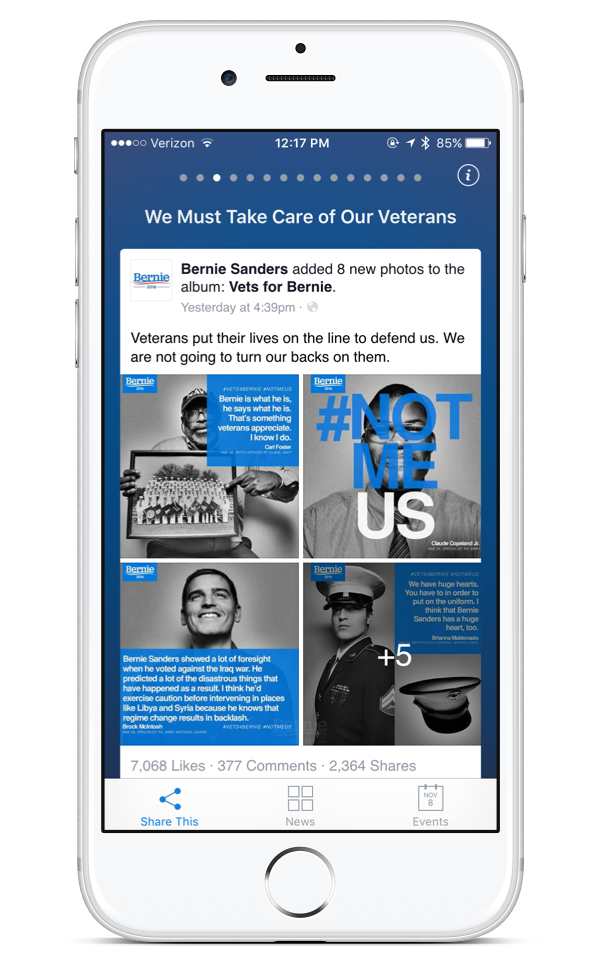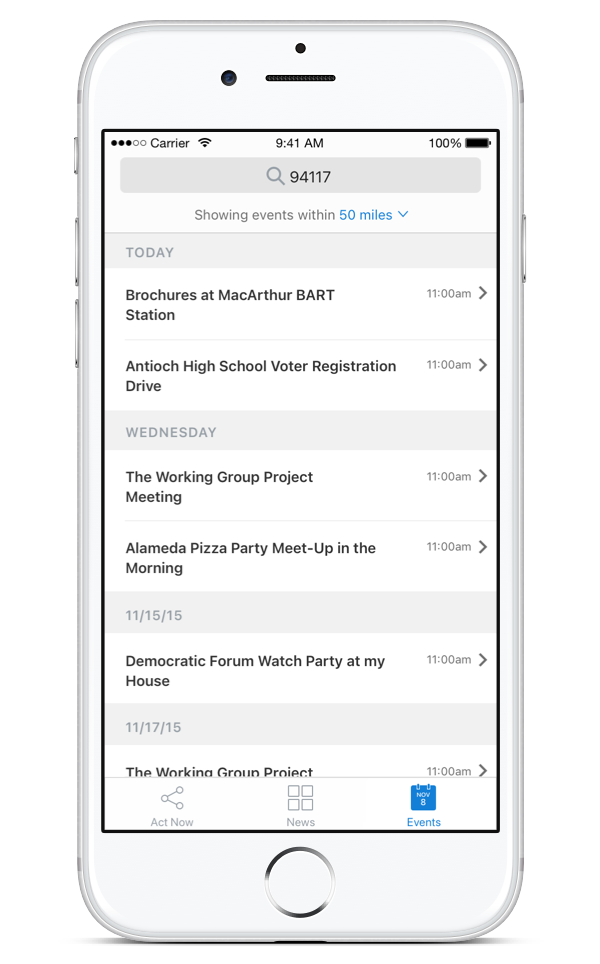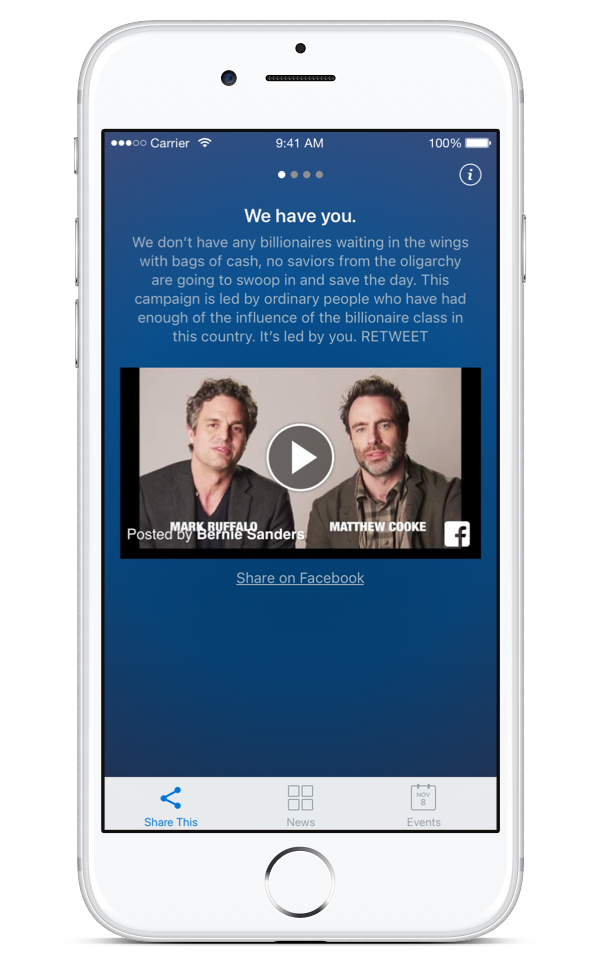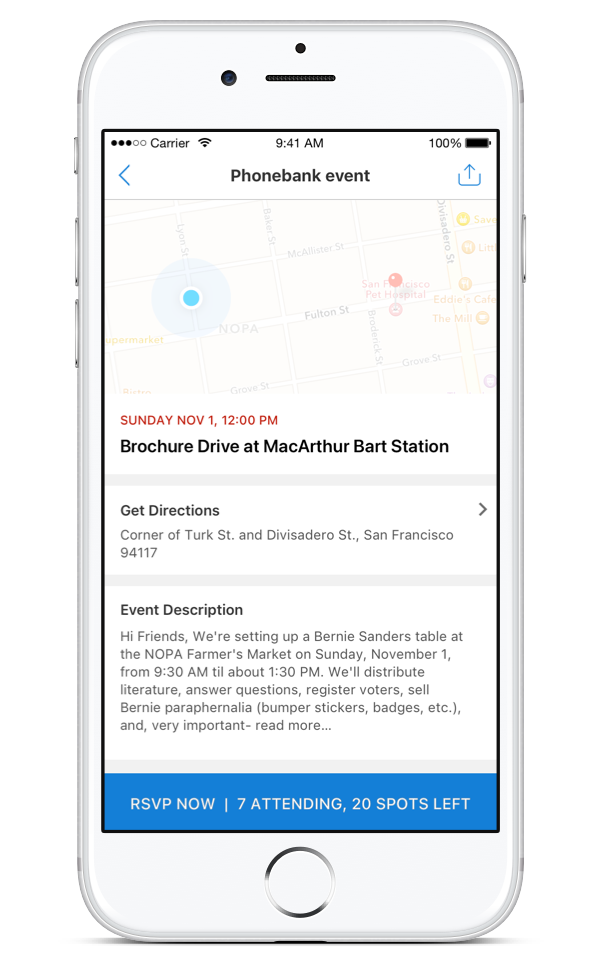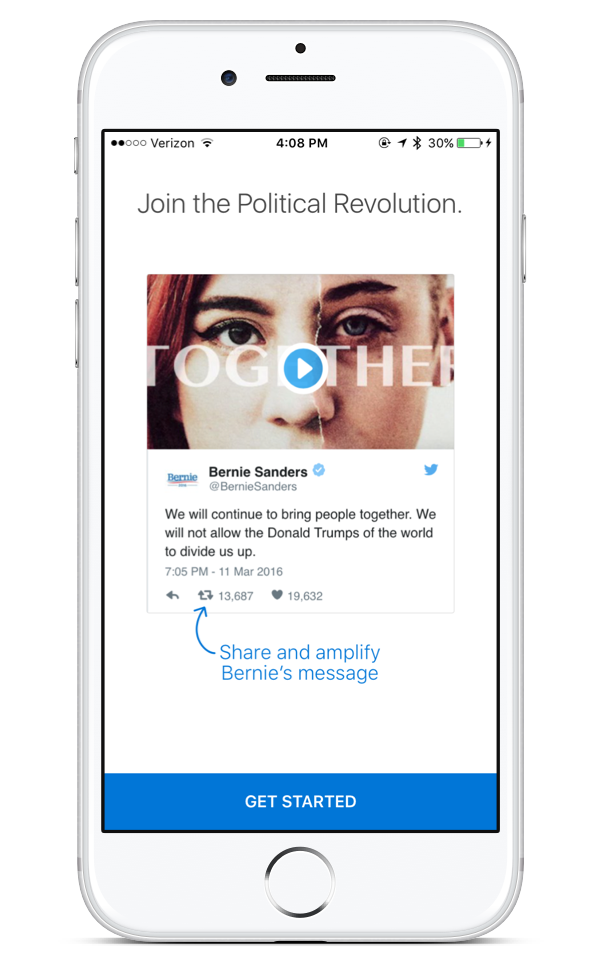 Grassroots supporters become campaign volunteers
Around April 2016, I joined a small online community working nights and weekends to build an app for the grassroots Sanders movement. The app used data from the campaign's website and presented it in a native mobile format. I helped create a product strategy and did the UX and visual design for the app (my first experience doing visual design for native mobile). We launched it as the "Movement" app on the iOS app store.
Within days, the app was noticed by the Bernie Sanders campaign, and they asked us to rebrand, add a new social media amplification feature, and relaunch it as the official Connect with Bernie app. I was proud to do the full visual redesign and see it through to its launch.
Our small team continued to own and run the app on behalf of the campaign. I stayed involved by writing push notifications for the user base to coincide with major events. We eventually heard that the app got a big thumbs up from the candidate himself.
The app was download by thousands of users shortly after its announcement, and stayed in the app store until Hillary Clinton's victory in the 2016 democratic primaries. It was a lot of fun and a highlight of my career.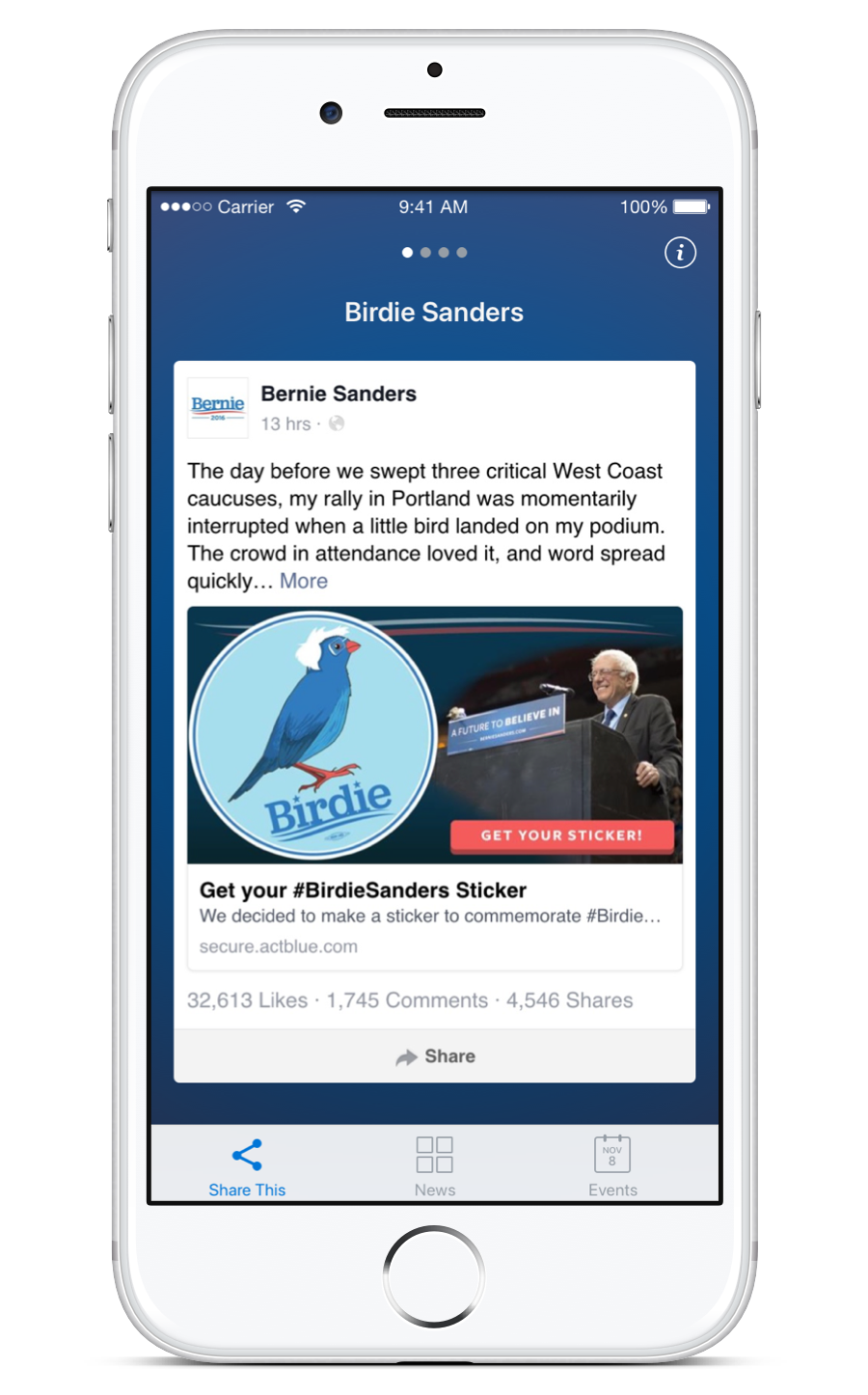 Share This
The campaign posted frequently to Facebook, Twitter, Instagram, and YouTube. They wanted a feature that aggregated the latest posts from all platforms and allowed supporters to share them to their own networks.
We arrived at a technical and visual approach to embed the posts directly on the interface with their native controls, rather than reformatting the contents to fit a custom layout and losing social functionality as a result.
We backed up this page with push notifications, sending out pushes to users whenever there was a particularly important message that the campaign told us they wanted everyone to see and share.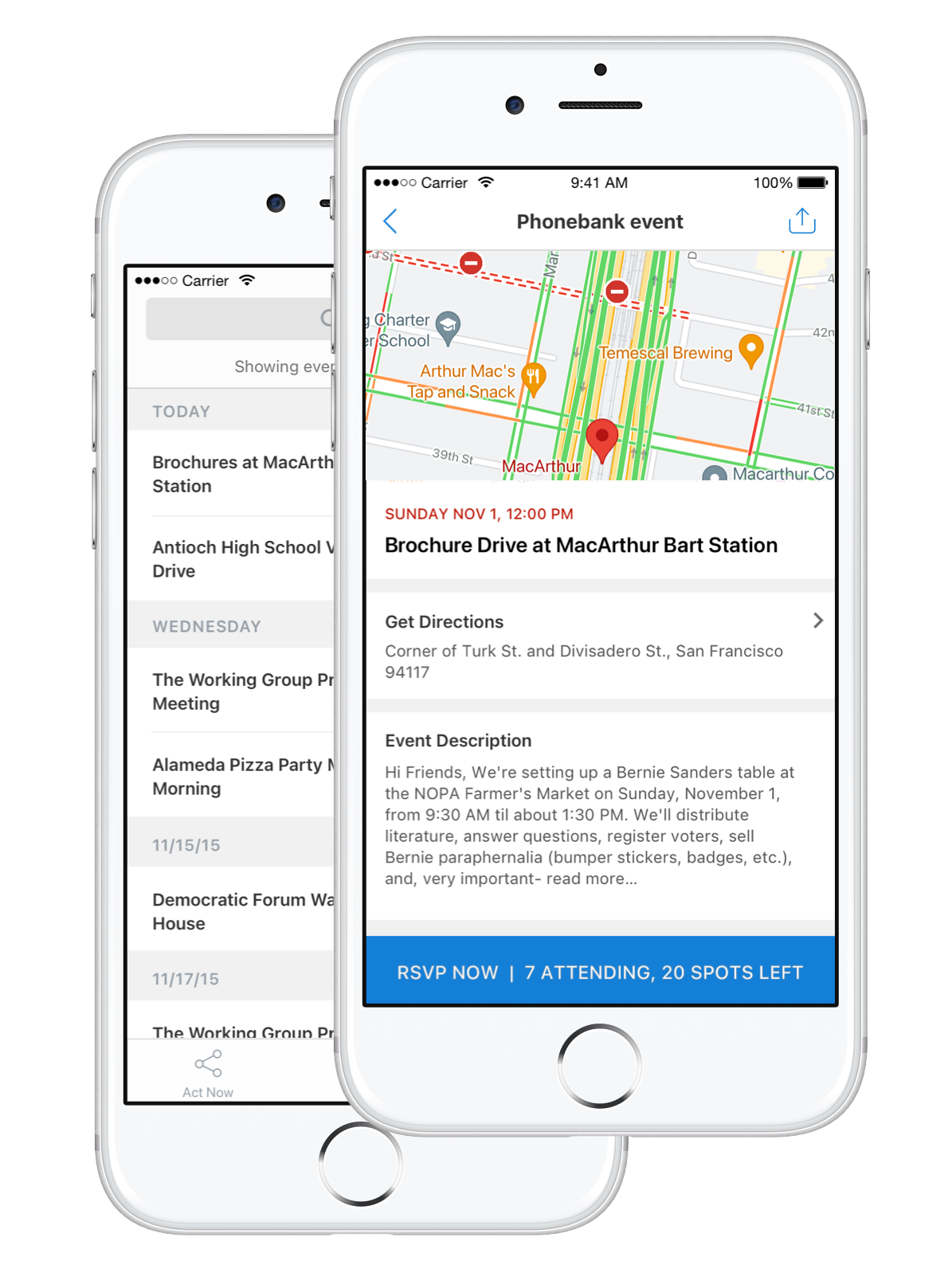 Participate Locally
The app featured a map search tool to plug supporters into the grassroots effort locally and in-person.
This tool already existed on the campaign's website and was used heavily by volunteers looking to participate in the movement all over the country.
We presented it in a sleek mobile format, complete with geolocation and easy access to turn-by-turn directions.
What this project meant to me
First and foremost, this was the highest-stakes project I had ever worked on. It was my first time as the sole designer of any product, and I got the job only because a former General Assembly instructor reached out to me and things got really crazy from there. It had to look good, work well, and ship on time. It lit a fire under me and forced me to get a lot better at design, really fast. Failure was not an option.
The project also gave me one of the most cherished experiences of my career. While I've since become less of a young political firebrand, it was an opportunity to participate in a moment that had animated nearly everyone in the country, and was playing out in the most dramatic way with consequences that are still reverberating. I wouldn't trade it for anything.
Where to see the app
The app was deactivated once the winner was determined in the 2016 democratic primary. However, you can still see traces of its existence. This was the campaign's official announcement on Facebook.