CFTPay Mobile
UX, visual design, product conception and planning. Launched in 2019 for Finxera Inc.
Introducing mobile apps to an industry
Finxera (under the sub-brand CFTPay) is a multi-channel payment processor and software provider to the debt relief industry. Think of us as a digital wallet that you get signed up for automatically when you enroll in debt relief. We created the CFTPay mobile app for our enterprise customers to provide in turn to their end users.
In addition to providing information about account balances and transactions, the CFTPay app leverages the mobile push notification channel to reduce turnaround times on urgent e-sign requests, and allows clients to use their device cameras to upload important documents in a timely manner.
Finxera's B2B customers love the app, and it has seen rapid adoption, especially among the industry's growing 40-and-under demographic.
My role
My role in this project was primarily to translate the product vision into the best possible user experience, and give it a great look.
Tools I used
I designed the app from scratch in Sketch, and published it in Zeplin to our in-house developers.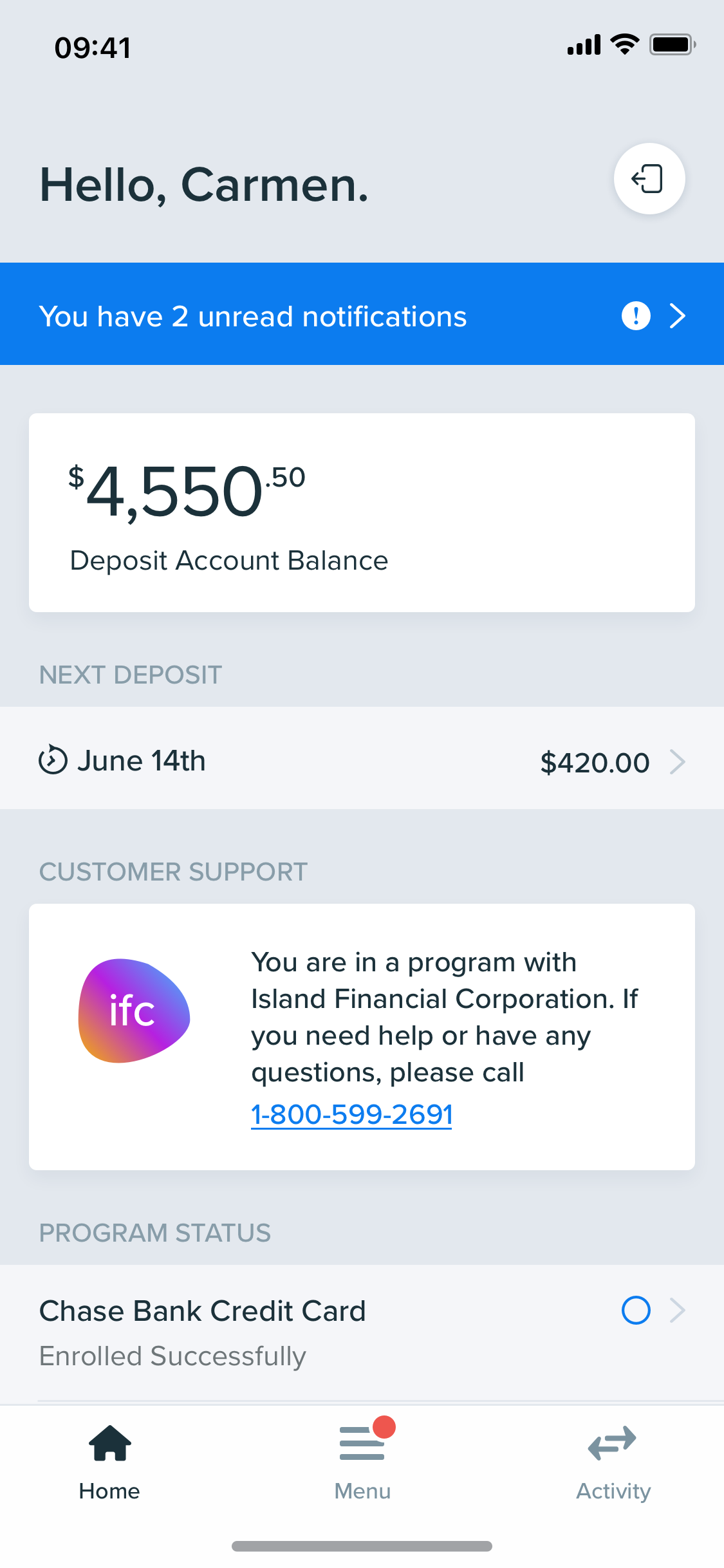 Visual design
I created a fresh perspective on CFTPay's brand identity for our new foray into mobile.
The result:
The app gets a modern, airy vibe rather than the look of a traditional banking app.

Subtle drop shadows add a touch of gravitas, and never really go out of style.

The design language eschews the traditional elements of iOS and Android and can therefore be unified across both platforms.

The Home page design uses subtly differentiated card styles and allows for the addition of new modules in the future.

A full custom set of icons meets the app's unique needs.

CFTPay's brand identity received some new, bright color variants that were introduced in the app.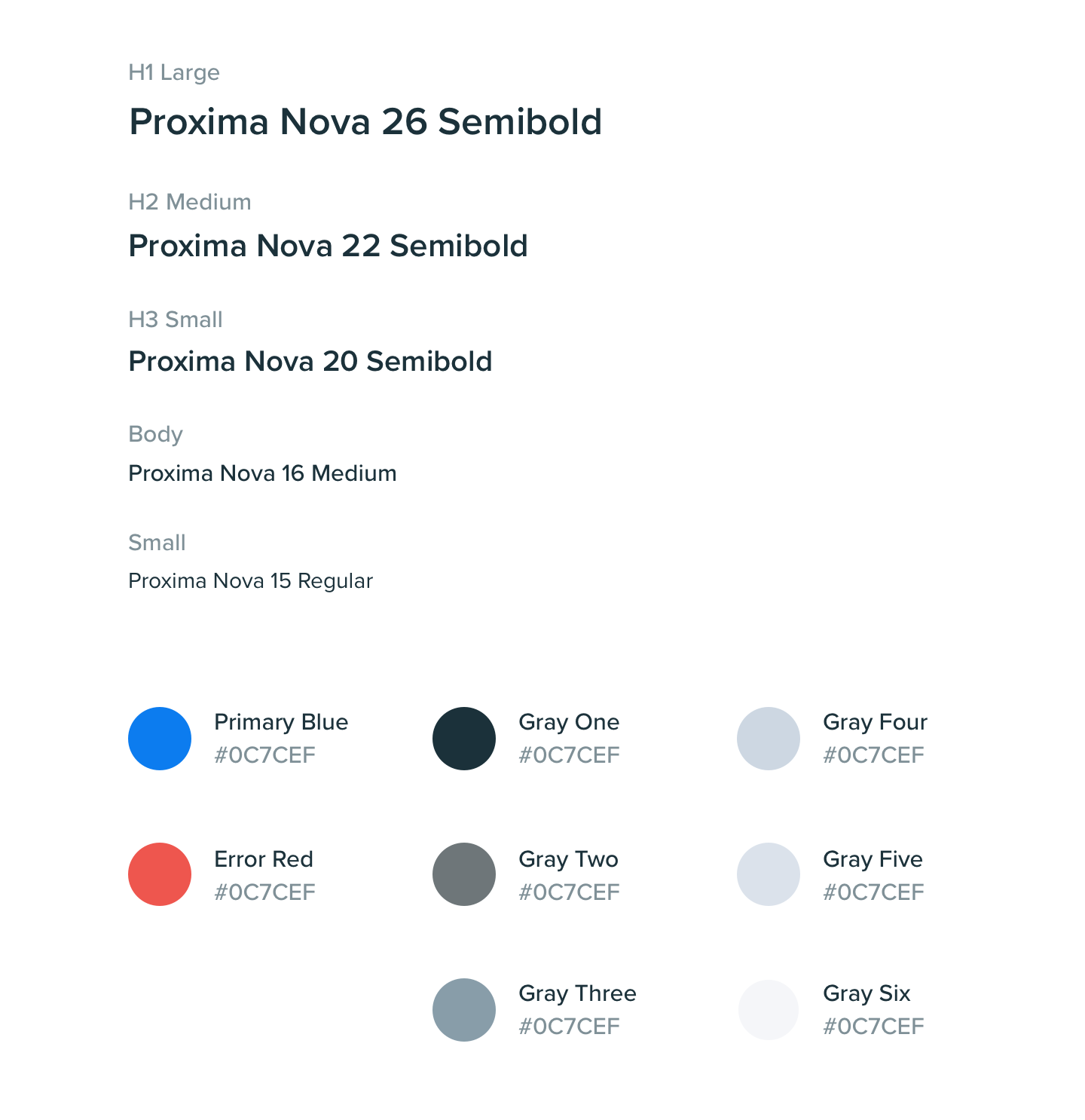 Color and typography
I created a modernized version of the brand's color palette for the app, and we selected Proxima Nova as our new typographic identity for all new products.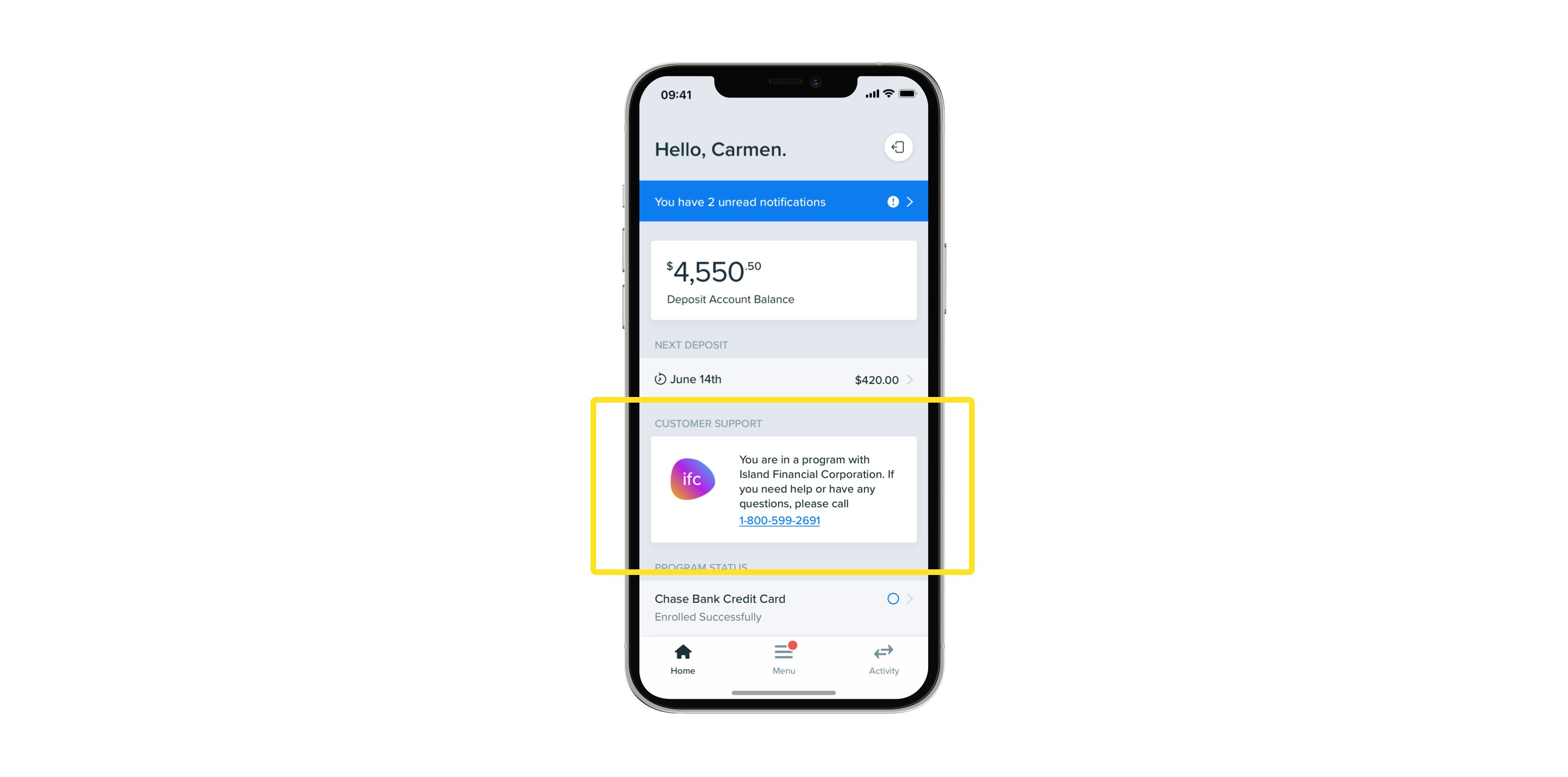 Solving a tricky problem around co-branding
The CFTPay app is in an odd position. It's created by CFTPay for consumers who don't have much of a direct relationship with CFTPay.
Think of it as a digital wallet that you are automatically signed up for when you join a debt relief program. The app is advertised to clients by their debt relief companies after program enrollment.
This created a LOT of disagreement around how the app would be branded or co-branded.
We eventually agreed that in the long run, we might create multiple copies of the app, each under the brand name and visual identity of our debt relief partners. In the short term, we would launch just one app under the brand CFTPay.
Given this constraint, my visual solution to the co-branding challenge was to give our customers a card on the home page of the app that contained their logo and customizable text. We haven't encountered any confusion among the user base so far.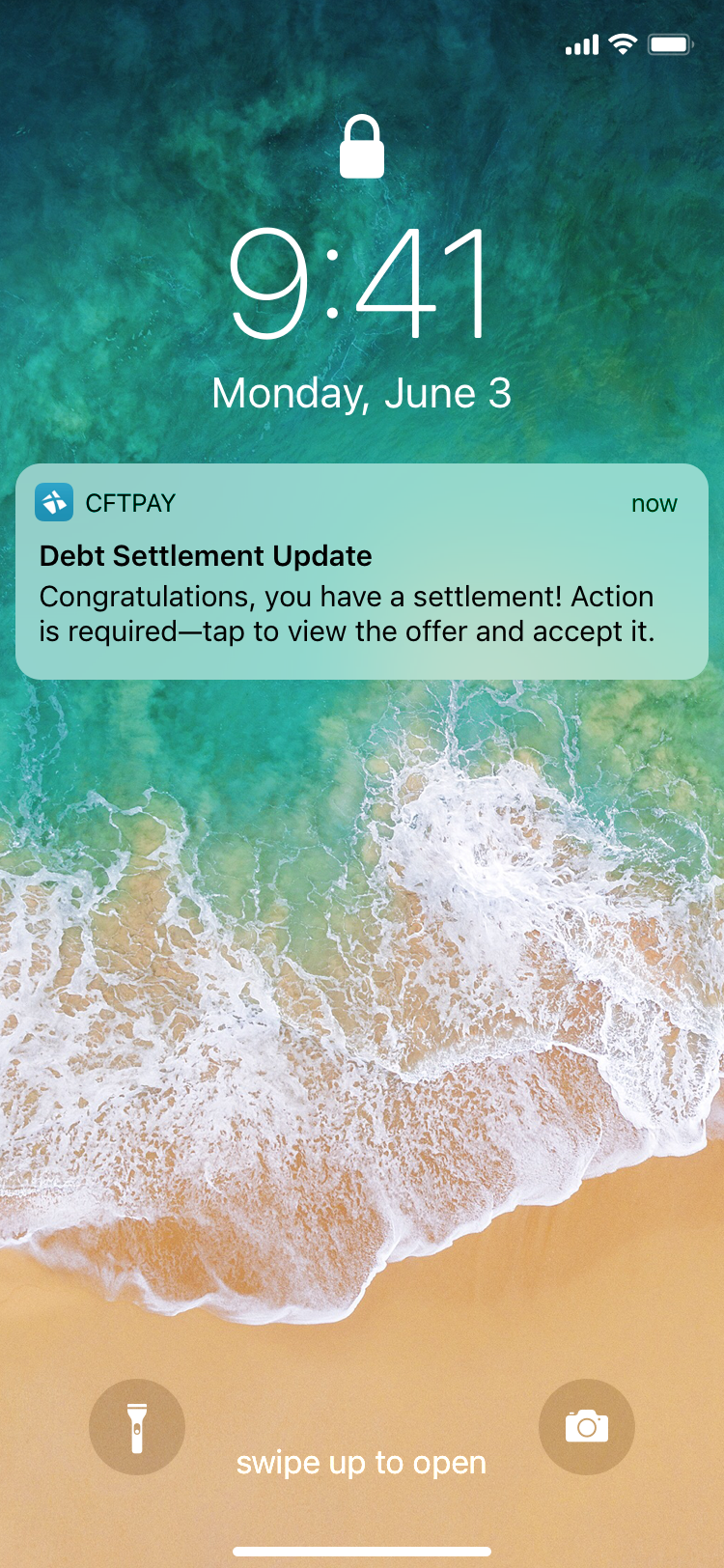 Driving engagement through push notifications
Push notifications is the marquee feature of the app. It has challenged a fragmented, relatively slow-changing industry to think of ways to engage with clients via their mobile devices and start solving problems through asynchronous communication.
We targeted the following problems using push notifications:
Getting e-signatures

Debt relief negotiators settle debts for clients, but they need clients to authorize the settlement quickly so that it can be put into effect with their creditors. Push notifications have now been measured to be the fastest method to get a client to review and and authorize.

Training users to expect monthly debits.

There are concerted efforts in the industry to avoid clients from "NSFing", or not having enough money in their checking account to fund monthly deposits into escrow to repay their debts. We are establishing automatic push notifications to clients well in advance of each deposit to train clients to ensure that they will be able to clear them, and letting them know when deposits fail. This project is underway, and we hope to have data on its effectiveness soon.
Looking back, looking forward
The app has set Finxera apart as the most innovative player in the highly competitive debt relief payment processor space, and some of our customers have shown through eager adoption that they love it.
In the long run, I would like to make the app part of a broader project of helping out customers with their mobile strategy, including discussions around SMS, web portals, and feature innovations not necessarily related to the native app medium that help customers be more engaged and successful in getting out of debt. This is likely where the project is going to go in the next few years, and the CFTPay app has been a strong start.