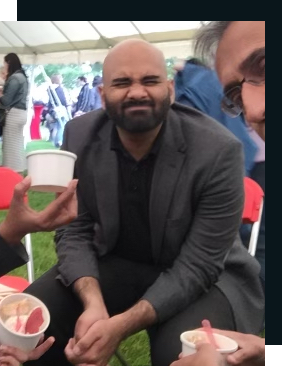 Product Designer in San Jose, California
I started as a product manager and followed my passion for design until it became my main job. I've worked in fintech at Finxera, recruiting tech at JobScore, and volunteered for the Bernie Sanders campaign.
I've written functional specs, simplified complex interactions, and designed crispy clean visuals. With my PM background, I collaborate well with engineers and know how to stay focused on what moves the needle for the business.
My skillset
I've spent most of my career working on large, complex enterprise web apps. This has been my primary learning environment.
Soft skills:
Talking to developers in technical terms.

Asking people questions in a way that's understood, knowing when I might have been misunderstood, and interpreting answers correctly.

Asking again in another way, or confirming with additional people, just to be sure.

Presenting work to stakeholders in a way that targets thoughtful buy-in or criticism, rather than perfunctory acceptance or offhand rejection (starting with mood boards for visuals, showing early progress on UX, weekly design reviews)

Not being afraid to confess weakness, ignorance, or mistakes.

Knowing when it's time to put the pencil down and ship, and not getting carried away with quixotic ideas and what-ifs.

Being good at stepping out of my own context and simulating a beginner's mind while iterating on design work.

Following the ten principles of Dieter Rams. My favorites:

Good design is aesthetic.

Good design makes a product understandable.

Good design is unobtrusive.

Good design is thorough down to the last detail.
UX skills:
Information architectures

User research

Wireframing

Prototyping
Visual design skills:
Design systems

Typography

Color

Layout

Icon design
Coding experience:
I wrote code for the first time when I was ten years old (an address book in Visual Studio), and have done exercises in HTML, CSS, and Javascript to learn how the sausage is made. I try to keep up with what's new in the developer's toolkit, but programming really isn't my thing.
Outside of work
The reason I became a designer—my greatest passion (and a significant time commitment) is obsessing over products and nerding out over their smallest details. To people who know me, I'm like a human Wirecutter. I really care about how designed objects fit into our lives.
Most days, you can find me experimenting in the kitchen with global cuisines and trying out my own crazy ideas for dishes with fewer carbs. I've also learned six languages over my life and traveled to 15 countries in five continents, with more trips planned.
Get in touch!
I'd love to connect, give me a shout on Linkedin.